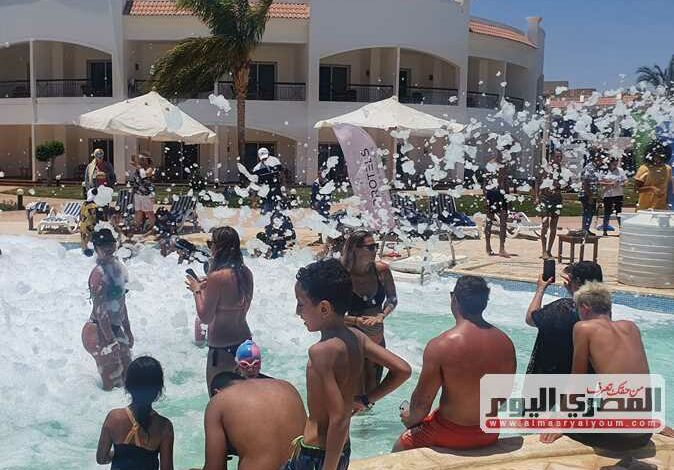 Hotels and tourist villages in Hurghada saw a significant increase in occupancy with the start of the Eid al-Adha holiday.
The reservation departments in Hurghada announced that they were complete during the week of the Eid holiday, according to confirmed reservations for Egyptian, foreign and Arab guests.
Hotels at al-Gouna, Sahl Hasheesh, Abu Soma Bay and Makadi Bay ranked first in the highest prices for rooms, amid an increase in accommodation prices compared to the prices of Eid al-Adha of last year.
The price of a room in famous tourist villages amounted to about LE 7,000 for the all-inclusive accommodation of a double room, and the guests of these famous tourist villages included senior businessmen, officials and Arab tourists.
The Ministry of Tourism and Antiquities decided to send inspection committees to monitor the services provided to Egyptian and foreign guests and inspect the quality of food and beverages.
Al-Masry Al-Youm surveyed the prices with reservation officials in some hotels.
It reported that they range between LE2,200 and LE3,000 for an all-inclusive stay for a double room in four-star hotels in Hurghada.
The prices also range from LE3,000 to LE4,000 per night in the hotels of al-Gouna, Sahl Hasheesh and Makadi Bay.
In some tourist villages, one night for a double room reached LE 7,000.
Egyptians flocked en masse to spend their vacation in Hurghada before the new school year and the return of thousands of Egyptians from the Arabian Gulf, in addition to the improvement in the turnout of European tourists with lower accommodation prices for foreigners compared to the prices of Egyptians.
The operating schedules for arrival flights at Hurghada International Airport in the Red Sea recorded on Sunday the reception of 100 regular and charter flights from various European airports, carrying about 15,000 European tourists.
The German tourist movement coming to Hurghada in the Red Sea topped the list of European nationalities, while domestic tourism is witnessing a boom in occupancy in various hotels.
Edited translation from Al-Masry Al-Youm