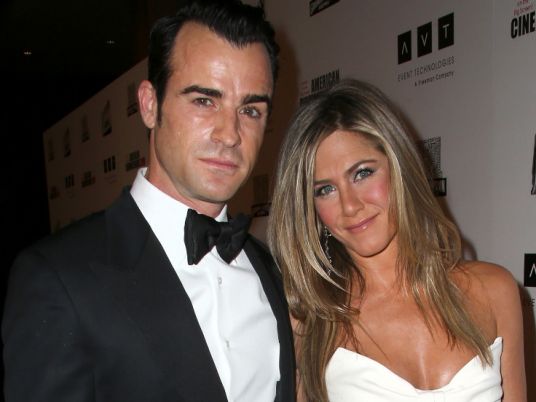 Ashton Kutcher chose a venue called "The Secret Garden," Brad Pitt and Angelina Jolie kept news of their nuptials under wraps for five days, and Jennifer Aniston tied the knot in her own backyard.
Aniston's surprise wedding to Justin Theroux this week marked the third time that major Hollywood stars recently have managed to evade the media circus when exchanging their vows.
The hush-hush ceremonies are a stark contrast with the lavish celebrity weddings of the past.
"Celebrities, like everyone else, are living in a modern media world. It is extremely difficult for them to maintain their privacy," said JD Heyman, deputy editor of celebrity magazine People.
Heyman said he was not surprised that Aniston, whose love life has been a major media obsession, had opted for a private ceremony. The former "Friends" star does not have a Twitter, Facebook or Instagram account.
"There have been several years of people saying wild and outrageous things about her relationships. They had a lot of ability to protect their privacy and they used it. She doesn't live in an easily accessible place," Heyman said.
Aniston reportedly told her 70 guests they were coming to a birthday party for actor and screenwriter Theroux on Wednesday night in the garden of the home they share in the affluent Los Angeles neighborhood of Bel-Air.
It was a very different tone to her wedding to Pitt in August 2000, which took place on a Malibu cliff top with four bands, a gospel choir, fireworks and a reported cost of US$1 million.
Pitt also chose to keep things low-key when he married partner Angelina Jolie at a chapel on their rural French estate in August 2014. Their six children were the main guests.
The long-expected Pitt-Jolie nuptials had sent the media as far as India and Africa for years in search of rumored ceremonies. When they finally tied the knot, the couple managed to keep the news from the world for five days.
In recent times, George Clooney and Amal Alamuddin's extravaganza in Venice last September stood out as an old-style celebrity event, with the pair and their Hollywood friends being trailed by hordes of media in boats.
"Two and A Half Men" star Kutcher chose a sleepy Independence Day weekend last month to wed girlfriend Mila Kunis in a private orchard venue in California called "The Secret Garden." News of the wedding slipped out two days later.
Like Pitt and Aniston, it was the second time around for Kutcher, whose seven-year marriage to Demi Moore ended in divorce in 2013.
"He had been married before in a very public way to a very famous person. Whatever impulse they might have had to have something more public was probably thought better of," said Heyman.