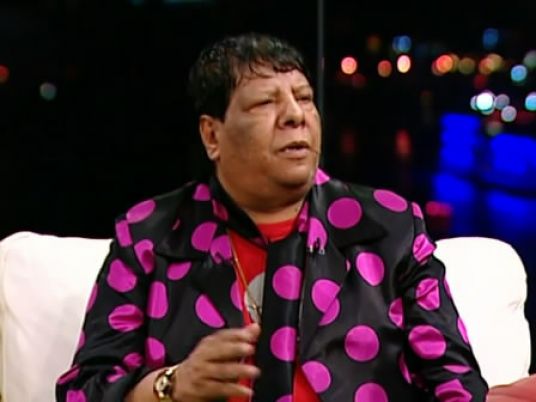 Popular Egyptian "Shaabi" singer Shaaban Abdel Rahim passed away at Maadi Military Hospital on Wednesday at the age of 62 following a sudden health crisis, according to Khaled Bayoumy, a member of the Board of Directors of the Syndicate of Musical Professions.
Singer Hany Shaker, who heads the syndicate, offered his condolences to Abdel Rahim's family in a phone call and arranged for details regarding the funeral of the late singer, according to Spokesperson for the Syndicate of Musical Professions Tarek Murtada.
The family is scheduled to announce the time of the funeral prayer and the condolence ceremony on Tuesday, he added. The ceremony is traditionally held within three days of the death of a loved one so that friends of the family can offer their condolences. 
Abdel Rahim recently performed at a concert in Saudi Arabia while in a wheelchair, citing ongoing health issues. 
The late artist was born in 1957 in the Sharabiya district of Cairo, going on to produce a number of songs — some of which contained political themes — that were lauded for their popularity across the Arab world.
These include "Bakrah Israel" (I hate Israel) and "Habattal el-Sagayer" (I'll Quit Cigarettes).
Abdel Rahim also took part in several dramas, including "Mowaten W Mokhber W Haramy" (A Citizen, a Detective, and a Thief; 2001) and "Falah fel Congress" (Farmer in Congress; 2002). 
He also made appearances in a number of plays alongside actor Samir Ghanem, presenting a TV program as well.
"Shaabi" is a genre of music in Egypt born and developed away from record companies and mainstream satellite TV channels, bringing back a ritual that disappeared with the spread of cassette culture — the neighborhood singer who knows the people and their frustrations and tells their stories through his songs.
Edited translation from Al-Masry Al-Youm