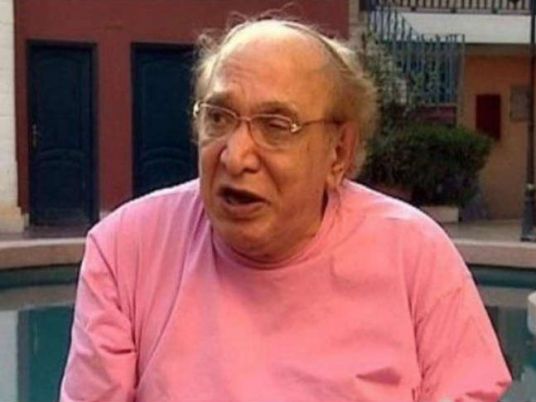 In a small hospital room in Maadi Military Hospital overlooking the Nile lies the great director Raafat al-Maihy. Al-Masry Al-Youm, along with the director of the Catholic Cinema Center Father Botros Daniel, visited Maihy to learn of his health.
Maihy's problem is that he is conscious of people around him, said scriptwriter Ola Ezz Eddin, Maihy's wife. Most people afflicted with clots lose consciousness and do not know who visits or asks about them, she added.
The director seems to suffer quietly, becoming more and more frustrated and embittered by what he perceives as abandonment from his fellow colleagues. He is able to follow daily details, Ezz Eddin said, but only his family visits him at this point.
At the beginning of his hospitalization, some actors visited Maihy, including Elham Shahien, Laila Elwi, Maaly Zayed, Hala Sedqy, Menna Shalaby, scenarist Wahid Hamed and director Mohamed Yassin, she mentioned.
Director and undersecretary of the Egyptian Cinema Syndicate Omar Abdel Aziz and head of the syndicate Mossad Fouda visited him as well at the beginning, Ezz Eddin said.
Despite his illness and his stay in the hospital for the past seven months, Maihy dreams of returning to work. He often tells his wife about his hopes in words she cannot write or understand at times, Ezz Eddin explains.
He has lost the ability to hold a pen and write as he is suffering from small clots that have spread over time to different parts of his body. Doctors can only prevent the spread of clots to others parts of his body for some time.
Maihy was planning on directing two movies, but they were postponed following his illness. One of the films was based on his novel "Sehr al-Eshq…Hurghada" (The Magic of Love…Hurghada). He had already started shooting scenes from the movie starring Youssra al-Loazy, Ahmed Fouad Selim, Elwi and Gamal Suleiman. The movie faced production obstacles, however, and was postponed.
The second movie was "E'terafat Zawgeya" (Marital Confessions), an old project he had wanted to embark on with late actor Ahmed Zaky, as well as Elwi.
Edited translation from Al-Masry Al-Youm