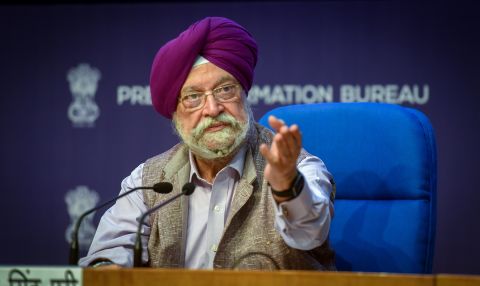 India's oil minister has said he has "absolutely" no moral conflict about purchasing Russian gas amid Moscow's brutal war in Ukraine.
"Absolutely none. Absolutely none. There is no conflict," Hardeep Singh Puri told CNN's Becky Anderson on Monday. "We have a duty to our consumers…We have 1.34 billion population, and we have to ensure that they are supplied with energy."
Concerning the proposed cap on Russian oil put forth by the Group of Seven (G7) wealthy nations, Puri said India will examine it and respond "according to its supreme national interest." He added that India did not feel any pressure to do so.
India's imports of Russian oil stood at 0.2% of total imports at the end of March, Puri said. Reuters reported that surged to a record high of 23% in September.
In September, the US was in talks with Delhi about rethinking its reliance on Russian arms and energy, as Western allies of Kyiv have made efforts to diversify their energy supply in order to wean themselves off Russian oil.