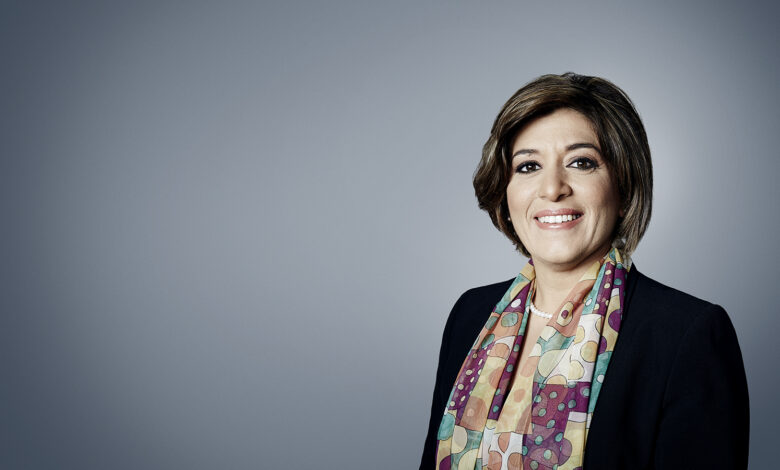 With its 20th anniversary around the corner, CNN Arabic Services has successfully cemented its place in the media landscape of the Middle East and Africa region by providing a global perspective on international and regional coverage.
Egypt Independent interviewed Vice-President, Editor-in-Chief at CNN Arabic Caroline Faraj, who talked about leading the website since it launched in 2002 and how it established a reputation for well-rounded, impactful journalism across two decades.
Sharing some of her 30-year experience in journalism, Faraj touched on how CNN Arabic continues to thrive and expand its readership base across the globe, alongside the role it plays in giving voices to Arab women, and its latest efforts to equip future journalists with required professional skills.
What has been CNN Arabic's biggest achievement of the last two decades?
Over a 20 period, we have made CNN Arabic the Middle East's leading independent news platform. What makes us stand out is independence and our credible, authentic, factful reporting, and the huge trust in the CNN brand which has tremendous value for our audience. We offer a global perspective, both on international news but on stories that are more regionally relevant or focused. Being part of the world's largest news network, with journalists working on stories from every continent, is an enormous asset in terms of the renowned quality of our journalism, the resources and wealth of talent in our teams, and the recognition and confidence that the audience has in us.   As we've seen with record audience numbers in recent years, CNN is more essential than ever before in providing trusted news. 
During your 20-year tenure as Vice President of Arabic Services at CNN, the Arab region has undergone drastic political upheaval. What was the most challenging event to cover in the region? Why?
One of the unique things about our industry is that every day is different from the one before and brings a different challenge. Maybe this is one of the reasons why I enjoy being a journalist as I am always challenged and never bored. Having said that, while the Middle East region is often busy with breaking news – be it wars, terrorism, demonstrations – it is also rich with stories of prizes, achievements, society, culture, and innovation. Every story we cover from the region has its own challenge. However, I can say that the most challenging story for me was the Covid story, this mysterious pandemic kept challenging the world, and the media included. 
How do you balance maintaining CNN's credibility in news coverage and dealing with some Arab states' restrictions on the media?
 Media freedom remains an issue in many parts of the world, but over the years I have seen largely positive progress across the Middle East in terms of governments having a better understanding of the role that free and fair media plays in society and culture. As for us at CNN Arabic, my team is all from the Middle East, and uniquely placed within this landscape. As part of CNN, we are able to operate without fear or favor to tell whatever stories our audiences need to hear, but we combine this with our deep knowledge of the region to ensure that we tell stories sensitively in a way that reflects regulations and nuances. Telling the truth and serving our audiences will always stay at the core of our mission. 
How has CNN Arabic developed throughout the past years to cope with the rapid technological changes in the journalism industry?
 CNN Arabic has been a digital destination from the outset when we launched almost 20 years ago. As a digital-first brand, we have been well ahead of many of our competitors. Mobile has been at the core of our offering ever since the introduction of the smartphone. It will remain a focus, in line with the Middle Eastern audience's preference, as we're currently seeing the majority of traffic on mobile which is at almost 90 percent in some cases. Our audience is always on, they're constantly connected and checking in with us and as we understand their interests and habits we're always anticipating and implementing innovation. 
Our strategy is based on constant innovation and responding to the audience and their consumption habits, the formats, and the stories that they're engaging with.  The closer we are to our audience the better we are in offering and curating the content they are interested in.  
Underpinning everything is a data-led approach that analyses audience trends and behavior to give insight on where we can grow and serve our audience even better in the future.  For example, our analysis shows that our Arabic audience expands well beyond the region and there are growth opportunities with Arabic speakers in the US. Along with breaking news, we know that business, technology, travel, health, sports, and entertainment are key areas of interest for our audiences.
What is CNN's edge among other competitors when it comes to its coverage on Egypt?
CNN brings a unique, global perspective to the way we approach stories in countries all over the world. And, of course, when CNN reports on a story then it reaches more people globally than via any other media. 
 Egypt – a place close to my heart that I have visited many times – is obviously a country rich with stories that appeal to a regional and global audience. We have covered many stories on CNN Arabic about Egypt and I am very proud of the great work that my team is doing on such a unique and rich country in many aspects, including history and culture. You can see some of them on the special page we have https://arabic.cnn.com/specials/destination-egypt
We obviously cover Egypt across all platforms at CNN, including news, features, events and landmark documentaries such as the beautiful Inside the Middle East special about the Grand Egyptian Museum that aired on CNN International last year, and the widely acclaimed access that Becky Anderson had with Mo Salah for a long-form interview that generated worldwide attention. 
CNN has recently launched a video series titled "Feast on Egypt" addressing the country's authentic food. What new does this series have to offer to audiences? 
Feast on Egypt is a great example of how we offer content across multiple platforms to tell stories and reach audiences in different ways. This series has aired across our English-language international TV and digital platforms, been promoted on social media and of course has a home on CNN Arabic too. Egyptian cuisine is popular and delicious, and this series really brings that to audiences. https://arabic.cnn.com/travel/video/2020/07/28/v92377-13-famous-traditional-egyptian-food-and-drink
As you know Egyptian food is crossing borders, and you can see one of the most popular restaurants in Dubai is Abu Tariq with his special Koshari https://arabic.cnn.com/travel/article/2019/12/15/koshari-abo-tarek-restaurant-dubai
What new sections/formats have CNN introduced this year to innovate and entice different types of readers?
 This year we have expanded our newsletter offering so that people can sign up for breaking news in Arabic every day. We are already seeing strong take-up and engagement. Newsletters are a good way to build relationships and news habits amongst our audiences – overall, CNN saw a 90 percent growth in subscriptions for newsletters in 2020 compared to the previous year. 
An area that I am very passionate about is training the next generation of journalists. For many years we've offered internships at CNN Arabic, we've had over 120 interns from around the world, and have provided training courses in the region. This has been formalized this year through the CNN Academy Abu Dhabi, which I was proud to be part of. As we look to the future, I am keen for CNN Arabic to bring this level of training for Arabic speakers that want to learn about the skills of our trade. 
How does CNN Arabic play a role in advocating Arab women's rights and gender equality in the region? 
This is an area that I am also personally very involved in. I speak at various events, mentor other women and also conduct journalist training with many groups where we are seeing a growing number of women want to enter our profession. There is a significant movement amongst many governments, businesses, and organizations across the Middle East to increase diversity in leadership, business, and culture. At CNN Arabic, we are excited to both tell the stories of progress as well as play our own part to inspire the next generation. Just two examples that sprint to mind and resonated well with our audience are: https://arabic.cnn.com/business/article/2020/01/24/saudi-women-entrepreneur-mutairi and https://arabic.cnn.com/business/2017/10/08/hiring-women-middle-east
Over the past few years, CNN International has been working on diversifying its income by offering subscriptions and paywalls. Do we expect to see CNN Arabic following in the footsteps of its parent company to relieve the market's revenue pressures?
 The future of the news business lies in a mixed ecology – a premium product such as CNN is highly desirable amongst global audiences and therefore continues to command strong advertising, distribution and affiliate revenues. However, innovation is a necessity as we look to the future, understand changes in consumer behavior and operate in an evolving media landscape. In the UK, CNN International Commercial is embarking on an interesting exercise where consumers can access a digital live stream of CNN International so they can watch our channel without the need for a TV package. There are already signs of success and plans for future growth. While there are no immediate plans to introduce paid-for components to the CNN Arabic portfolio, we may assess this differently in the future. 
 What are your future plans to cement the position of CNN Arabic in the region?  
CNN Arabic has a long heritage, coming up to 20 years, in telling stories about the region and serving audiences in the region and beyond. We are listening to our audience's needs and making changes based on the latest data insight as part of our commitment to them. Plans include expanding into audio and newsletters, which as I mentioned we're seeing huge growth globally. The product portfolio will grow, content formats will evolve and become more immersive and we're exploring a move into events.  
There are many exciting stories and events coming in the region as we look forward to a time of change, whether that be culture and society, business and energy, or sustainability and the role of business and governments to meet sustainable development goals. At CNN Arabic, we look forward to innovating in how we tell stories and distribute our content to audiences to reflect all this and much more.