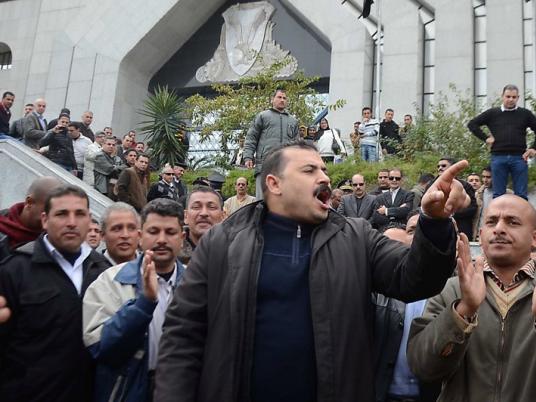 Interior Minister Mohamed Ibrahim has decried what he called as continuous rumors and media attacks against police services, saying his officers have been working under severe pressure and have been unable to respond to assaults.
The minister reiterated that policemen are maintaining self-restraint, adding that the officers are suffering moral pressures, unable to respond to assaults. He warned that ongoing pressures might lead policemen to lose control over their actions at any time.
"My officers are human beings after all," he stated, adding that he understands the rage of striking police officers and personally shares their feelings.
Several Central Security Forces camps and police departments have gone on strike demanding the removal of Ibrahim and better armament in face of assailers.
He accused the media of waging relentless attacks on the police services and painting a bloody image of policemen. He noted that he plans to sue independent Al-Fajr daily newspaper over fake reports that the ministry had imported tear gas from Iran.
"Some claim that we have been using nerve gas and other internationally banned substances. We use tear gas to repel protesters, for if we get into direct contact, there will be human losses," Ibrahim said in a news conference Sunday. "We have not fired a single bullet since 25 January."
Ibrahim said his ministry has nothing to do with regime-opposition conflicts and added that it is only carrying on its security duties. He called on political groups to withdraw protesters from the streets so security forces can recognize "thugs and saboteurs."
He also commented on attacks by hardcore football fan group Ultras Ahlawy Saturday, saying 3,000 of them "barbarically" stormed the Police Club near the Ahly Football Club while women and children were inside, causing more than LE50 million in losses.
They also ransacked the nearby Egyptian Football Association, stealing LE6 million in property, he said.
He stressed that the Armed Forces cannot replace security services in Egypt, saying the Second Army commander had earlier admitted this during a news conference.
Military forces have replaced police around the Port Said Security Directorate in the wake of weeks of clashes between police and protesters enraged by a court ruling sentencing 21 people to death for the murder of 72 people in the city's football stadium last year.
"Everybody should ask if he wants policemen around or not. If all people say we don't, we will leave," Ibrahim said.