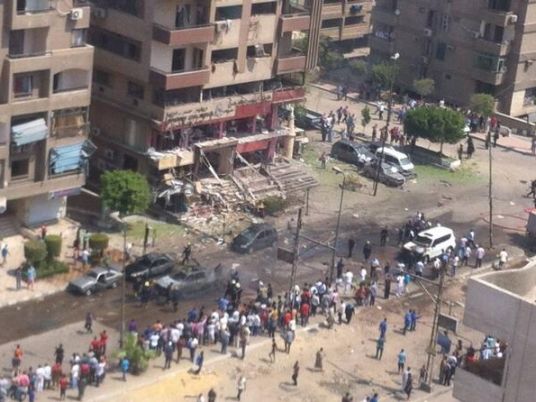 Interior Minister Mohamed Ibrahim told Al-Masry Al-Youm Thursday that unidentified elements tried to assassinate him using an improvised and remote-controlled explosive device.
The assailants may have been foreign, Ibrahim claimed, warning of a return to the terrorism of the 1980s and 1990s in Egypt.
Ibrahim said he could not rule out the involvement of foreign elements in coordination with some domestic group.
Ibrahim pointed out that many were injured, including a number of his guards as well as a child. An emergency services official claimed 21 people were injured in the attack.
The child had his forefoot amputated and a low-ranking police officer had his right foot amputated, he added.
Ibrahim reassured Egyptians on state TV following the incident. Ibrahim said he survived the two consecutive blasts that targeted his convoy on Thursday near his home at Mostafa al-Nahas Street in Nasr City.
Ibrahim described the attack as "villainous," adding that four cars were destroyed in the blasts.
A high-level security source told Al-Masry Al-Youm the interior minister was safe, but the attack resulted in many injuries and the destruction of a number of cars and shop fronts on Mostafa al-Nahas Street.
The source pointed out that security forces and bomb disposal experts arrived on the scene and combed the area to search for perpetrators of the incident .
The source said that two were reportedly killed in the two blasts which targeted the minister's motorcade on Thursday morning.
The Health Ministry said that the incident resulted in the injury of eight people, including six officers and a child who were transferred to hospital.