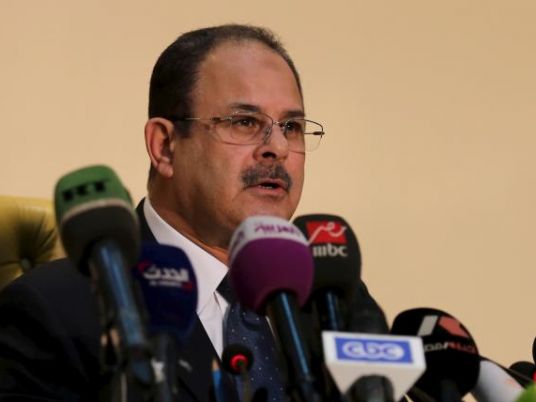 Interior Minister Magdy abdel Ghaffar has warned against any attempts to destabilize the nation through protests or violent attacks, saying anyone involved in such activities will have crossed a "red line" and be dealt with strictly by security forces.
Gaffar made the comments during a meeting with deputies and security officials ahead of Sinai Liberation Day on Monday, after some activists called for mass protests against the recent transfer of two Red Sea islands from Egyptian to Saudi control.
The islands of Tiran and Sanafir, which are located in the entrance to the Gulf of Aqaba, were transfered to Saudi Arabia as part of an agreement on maritme borders with Egypt that was signed on April 8. Since then, activists and opposition figures have been protesting the move, with several small-scale protests disrupted by security forces and arrests made.
There have been calls for a large-scale protest to be held on Sinai Liberation Day, April 25, prompting security forces to boost security arrangements in Cairo and elsewhere, making a number of arrests targeting individuals suspected of planning protests.
At the meeting, the minister warned of possible attacks on key establishments, including police facilities, and said that security personnel must be prepared for difficult situations. He said policemen bear the responsibility of preserving safety and stability.
He also highlighted the right of citizens to live in stable country and said that the law will be applied to everyone equally.
"I trust in the awareness of the honorable citizens, that they will not respond to calls to create chaos and harm security, or even respond to attempts to create division between security forces and the people, whom we have vowed to protect and secure, whatever the sacrifices or challenges may be," he said.
He warned against seeking to change government policy by unconstitutional means, saying that the intentions of the constitution have been put into effect by means of parliamentary elections, with government performance subject to various constitutional mechanisms for review.
There have been reports of raids by security forces on cafes and apartments in recent weeks, with several people, including journalists, detained on suspicion of planning protests.
Among them are 14 activists arrested by the East Cairo Prosectuion on charges of inciting demonstrations and seeking to overthrown the government by means of force.
Judge Samah Sameer, a member of the Defence Against Protests Front, said the general prosecutor called for the detention of the 14 activists and the observation of 33 others on the same charges.
The full list of charges includes: intent to change the constitution and its national agenda; intent to attack police stations and carry out terrorist activities; using violence and intimidation to force the president into refraining from carrying out his rightful role and duties, as stated in the constitution; assembling a terrorist group to paralyze the law and prevent the powers that be from practicing the law; attempting to harm national peace by means of violent force; carrying out a criminal project promoted through use of an international terrorist network; intent to influence the authorities by force; and harming the public interest.
Edited translation from Al-Masry Al-Youm