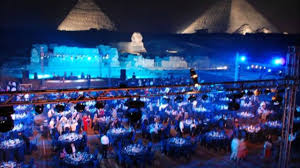 The Sound and Light Company will host a New Year Eve (NYE) celebration at the pyramids arena at midnight on December 31, said company chairman Samed Saad on Thursday.
The French dance producer and DJ, David Paparusso, better known as David Vendetta, and violinist Marcelo will participate in the celebration, said told Middle East News Agency (MENA).
Saad hopes that the celebration will encourage cultural and entertainment tourism, as well as encouraging visitors to Egypt in 2018 amid atmosphere of celebration and stability.
Saad called on media outlets to broadcast the celebration without paying charges to the Sound and Light Company. The celebration will last for 10 minutes (five minutes before the end of 2017 and five minutes after the beginning of the new year).
The Sound and Light Company is owned by the Holding Company for Tourism and Hotels. It holds sound and light shows at iconic archaeological sites including the Great Pyramids of Giza, the Sphinx, and sites in Luxor, Feala, Abo Simbel, and Edfu.
Edited translation from Al-Masry Al-Youm