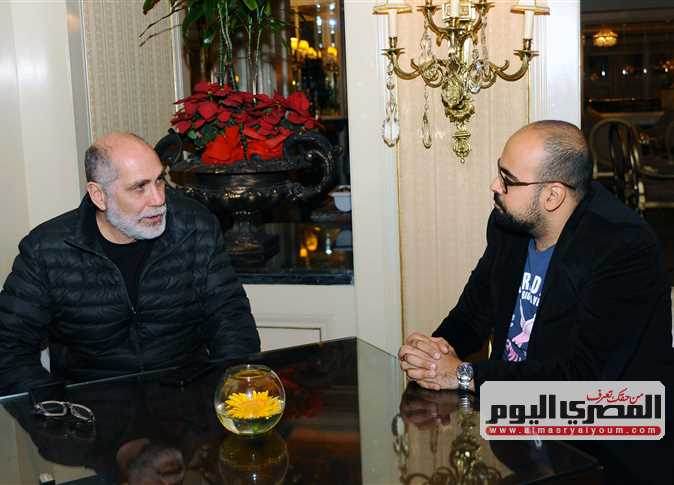 When Mexican author, screenwriter, director and producer Guillermo Arriaga was in his 20s, he got into a car accident in a mountainous area of Mexico.
The author and director broke his nose during the incident, forever damaging his sense of smell. However, the accident was also part of Arriaga's artistic breakthrough, eventually becoming part of scenes in several of his works.
Arriaga, who wrote seven time academy award nominee "Babel" (2006), says that writing is the hardest stage in film work, since there are no rules governing the process. For this reason, the screenwriter and director sometimes travels to "live" an experience before he writes about it.
In an interview with Al-Masry Al-Youm on the sidelines of the 41st Cairo International Film Festival (CIFF), Arriaga said that he rejects the traditional standards of cinematography and refuses to allow directors to interfere with the content of a story.
During the interview, Arriaga also discussed the various phases of his artistic life and shed light on the nature of cinema in his country in the presence of Mexican ambassador to Egypt José Octavio. The two expressed their excitement that CIFF had chosen Mexico as the guest of honor this year.
Full interview below:
■ First, what represents you being honored at CIFF this year?
– I am very happy to participate in CIFF, and I'm proud of being honored and also the selection of my country as the guest of honor for this session. This is my first visit to Egypt, and I have seen firsthand the greatness of this country. I had conversations with participants in the festival's activities, (and) I also visited the most important monuments, such as the pyramids and the Egyptian Museum, which illustrate the greatness of the ancient Egyptians. I look forward to making a film in Egypt. I have written and produced many films in many countries of the world, but this visit was special and inspiring to me. Your country enjoys a strong mix between the ancient past and the present.
■ How do you think CIFF choosing your country as a guest of honor will impact cinema in Mexico?
– (It will have) a very positive effect. Mexican cinema is ambitious and dreams of spreading all over the world. I would like to continue cooperation with Egypt, whether at the level of participation in major cinematic events or exchanging expertise between the two countries — they have great artistic talents.
■ On the subject of cooperation between the two countries — Mexico produced a film starring Salma Yaek inspired by "Midaq Alley," a novel by the Egyptian writer Naguib Mahfouz. Is it possible to see a repeat of this experience?
– I wish this experience (could) be repeated — Naguib Mahfouz is a world class writer, and his work has influenced the whole world. As a novelist and writer I'm impressed of course by what he wrote. The presentation of his work in Mexican cinema contributed to the transfer of authentic Egyptian culture to the Latin continent, so I also hope that Egypt will produce Mexican stories to inform the Arab region on our culture. Honestly, I hope to see Egyptian films translated into different languages. We receive very little Egyptian productions in cinema, although you have great talents, both in writing and acting. I remember, of course, the international actor Omar El Sherif, who has become very well-known.
■ Let's go back a few years…how did your story begin with writing?
– I started writing when I was 14 years old. (Back then) I was writing plays and short stories, and when I was 18 I began to market my work, especially children's stories, and also wrote for the press and the radio. When I was 23, I wrote three novels and a collection of short stories, and one of my novels was translated into 21 foreign languages. In my twenties I had a major incident that affected one of my senses, but I turned the negative effects into writing for cinema, taking advantage of the events I suffered during the accident.
■ You have achieved many successes in Hollywood by storming the world of directing alongside screenwriting, and you were nominated for the Oscar in 2006 for best screenplay with the film "Babel." You won in that time a Cannes Film Festival award — can you shed light on that experience?
– My story with Hollywood began in 2002, and since that time I have taken part in four works, whether through writing, screenwriting or directing and writing, which is an experience that I consider very important and (contributed to) a lot of successes. I am currently a member of the American Academy, which votes for Oscar-nominated films.
■ On the subject of the Oscars, do political standards interfere?
– Frankly, no one interferes in my choices — I am of Mexican nationality and my vote is influential in choosing the winner.
■ The film "Babel," which you wrote, made a huge splash around the world, especially since you mixed 4 different cultures into the events of the film.
– "Babel" is one of the most important films that I have written, and (it) took me time to search and travel in different countries, including Japan and the Moroccan Sahara, as well as travel between Mexico and the United States. The message I was keen to spread is that terrorism affects the lives of mankind. The two children, who fired on the bus during the film, impacted the fate of families from different countries.
■ You were able to mix directing and writing the story and the scenario, but which of these stages is the most difficult for you?
– Of course writing is the most difficult stage. It starts from the birth of the idea, and I spend a long time with my papers to develop it. Sometimes I have to travel to several countries to live the experience, but during the stage of directing I receive help from executives and photographers, so the stage of writing is the most important and difficult for me.
■ Sometimes the directors try to express their point of view on some of the events of the story, which change in context according to their standards. What do you make of that?
– I completely reject that the director change the story based on his point of view. The writer is the owner of the idea, so I avoid those (problems) when I direct my own work.
■ The prevailing trend of Mexican cinema is to do factual stories and biographies. Why focus on this type of film?
– Films bearing biographies are being done only in Mexico, but in general I talk about myself — I've a different direction from what is being done inside Mexico, and writing for cinema in general does not have standards.
■ Why?
– Because the writer is of course free from the limitations of academic writing. I know that some people want to preserve the traditional part, but on the other hand, there are no absolute standards for writing. There are many views, so I find it useless to see books entitled "How to write a film in 18 days" Or "Learn how to write for cinema." So I advise young people to be confident in their ideas.
■ Cinema in Mexico has achieved great successes over the past two decades, and its makers have received many international awards. What are the criteria that your country needs to reach the level of American cinema?
– We have many filmmakers in Mexico who have a great history in Hollywood, such as writer and director Michel Franco, for example, and of course we have many bright stars in Hollywood, but funding affects the amount of films produced. In 1995, Mexico produced only seven films due to funding problems, but in the past period, films produced have surpassed the 180 mark. I expect to take a leading position in the coming period thanks to our talents. On the other hand, cinema in the United States has many elements of success — all capabilities are available to them.
■ Your latest film "No One Left Behind" (2019) was featured in many international festivals, highlighting the relations between Mexico and the US. Is there a link between President Donald Trump's decision to build a wall between the two countries and the timing of the film?
First, President Trump's decision to build a wall is wrong and a very bad idea. No one overlooks the role of Mexican immigrants who contributed to the rise of the United States of America. A large number of citizens with American citizenship are originally from Mexico, so I made sure during the film to highlight the nature of relations between the two countries, as they are interrelated and diverse.
■ Have trends related to Trump influenced your presence in American cinema?
– We as artists have expressed our anger at the decision of the American president. At the grassroots level we know that immigration will not stop, and we cannot hide the historical facts linking the two countries. It is the immigrants of Mexico who have built the United States of America.
■ Some writers cling to commercial considerations in order to achieve better revenues for (their) films, do these concerns impact how you choose a story?
– My attitude is different from the majority of writers. I am committed to the technical side only, and that quality of (any) film lives a long time.
■ "Joker" (2019) has received different reactions in the world and is considered by some to promote violence. What is your assessment of this kind of film?
– I do not write these type of stories, and I am interested in the quality of films directed by, for example, the genius Tarantino, and his latest film Once Upon a Time In Hollywood — that really impressed me.
■ What are your next steps in writing?
– I am now completing my fifth novel, The Wild, in a number of foreign languages. It was very successful once it was published in 2016.
■ Have you influenced your children in their choice to direct films?
– I have of course conveyed my experience in the field of cinema, but I did not force them to choose that path — my son and daughter chose that (for themselves).
Edited translation from Al-Masry Al-Youm