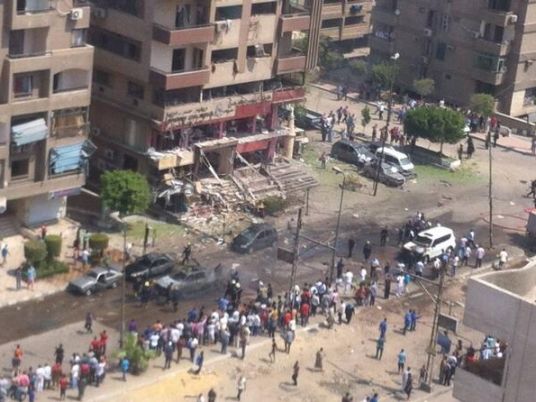 An investigation team from the prosecution visited the area in Nasr City that witnessed the assassination attempt on Interior Minister Mohamed Ibrahim.
Examining the site, the prosecution found a bombed vehicle on the side of the road. The bombs inside the car had been detonated by remote control during the passage of the Interior Minister's convoy.
The team concluded that there had been three bomb explosions, as they found three holes in the ground with each hole two meters apart.
A judicial source said two of the explosive devices were placed no higher than half a meter above the ground, while the third one was placed 3 meters above the ground. The source said that the latter may have fallen from an elevated position because it made a hole deeper than the other two.
The inspection revealed that the blast radius was almost 15 meters, destroying 12 vehicles, including five belonging to the Interior Minister's convoy. In addition, the blast shattered the facades of stores in the area.
Prosecutor General Hisham Barakat has assigned Prosecutor Tamer al-Fargany of the State Security Supreme Prosecution to take over the investigations, said a judicial source.
In addition, Barakat addressed the Health Ministry to send urgent reports of the incident to the Public Prosecution and provide the numbers of victims and injured in the incident. He also requested that the reports include the materials found on the bodies of the victims that could potentially be bomb residue.
Barakat also urged the Interior Ministry to send a team of explosives experts to determine the type of bomb used.
Prosecution visited the injured being treated at a military hospital, to listen to their accounts of the incident along with other eyewitness accounts.
Edited translation from Al-Masry Al-Youm