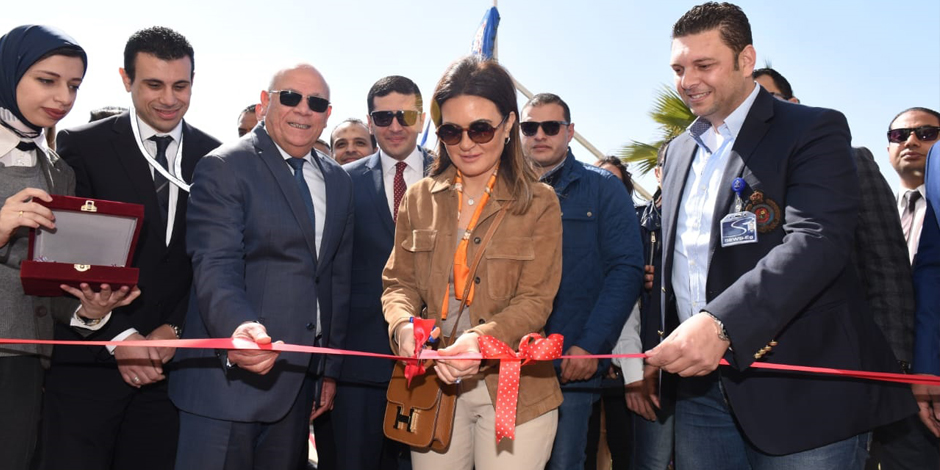 On Sunday Investment and International Cooperation Minister Sahar Nasr inaugurated two new factories from the Japanese Sumitomo Corporation in the Port Said free zone with direct foreign investments of US$200 million.
Governor of Port Said Adel al-Ghadban, and Executive Vice President of the General Authority for Investment and Free Zones Mohamed Abdel Wahab attended the event.
President of Sumitomo in Egypt Ahmed Magdy stated that Sumitomo began 400 years ago and is one of the six largest economic entities in Japan, adding that the company includes 20 industrial groups and works in various industrial fields, including electronic industries with 234 companies around the world.
One of these groups is working in the field of cables and includes 118 companies, including a company in Egypt, which operates four factories: three in Port Said and one in 6 October City.
He added that Sumitomo provides about 12,000 jobs with investments exceeding LE15 billion, and exports all its products to a number of countries, including England, France, Italy and Russia.
The company aims to increase the volume of investments in Egypt during the fiscal year 2019-2020, according to Magdy. 
He added that during the current year, a new plant will be constructed in 6 October City with investments of US$200 million and will provide 3,500 jobs.
Nasr also inspected a plant from TCI Sanmar, an Indian petrochemical company. The minister listened to an explanation from Sherif al-Menoufy, the company's CEO, who explained that the company is the largest Indian investor in Egypt with about $1.5 billion.
Menoufy added the company has expanded its investments by $300 million over the last two years following the issuance of the investment law, becoming one of the largest companies in the Middle East in the production of petrochemicals.
The company is committed to all environmental and occupational safety and health requirements, he said, adding that they company have established a complex of complementary small-scale industries that employs about 2,000 workers directly and provides 800 indirect jobs.
The minister then visited the KAPCI factory for paints, which has investments worth LE1 billion in Egypt, provides 1,650 jobs, and exports to 62 countries. The factory plans further expansion in Egypt, including the construction of a new factory.
Nasr later visited the Pyramids factory for manufacturing truck tires, the largest factory of its kind in the Middle East. It is located on an area of 75 thousand square meters. It has four stages for further construction, the first phase of which includes investments worth LE3 billion and provides more than 5,000 jobs.
The minister listened to details from the governor of Port Said on the establishment of 118 factories, which will provide jobs for many youth. The sizes of these factories include 300, 560 and 840 square meters.
Nasr also visited the Free Zone in Port Said, which includes 82 projects, including 45 industrial projects, 17 storage and 20 services projects.
The total capital of these projects amounted to one billion dollars. Investment costs were $2.4 billion, providing 35,000 jobs. The zone's exports recorded about $1.3 billion during the last fiscal year, including one billion dollars outside of Egypt.
The most important industries of the Port Said free zone are ready-made garments, chemical industries, construction supplies, petroleum services and navigational services.
The Investment Ministry plans to establish seven new free zones in order to attract more investors and increase exports and productivity in the governorates of Minya, South Sinai, Ismailia, Giza, in Daqahliya, Aswan and Kafr al-Sheikh.
The seven zones include more than a thousand projects, and will provide about 120,000 jobs.
The minister pointed out that the total number of projects in the free zones exceeded 1,090 projects, with a capital amounting to $12.5 billion, in addition to $2.15 billion in foreign direct investment, a cost of investment that amounted to about $26.2 billion.
These projects contributed to providing about 192,000 jobs.
Nasr visited the Lotus Group in the Free Zone in Port Said, which manufactures ready-made garments and furniture of all kinds all exported abroad. The factory employs 9111 workers and exported about $136.5 million during the last fiscal year.
The minister then met with investors in Port Said, discussed with them increasing investments, and stressed that she works to facilitate investment and to remove any obstacles facing their work quickly.
She called on investors of the free zone in Port Said to expand their investments, and export out of Egypt.
Nasr also visited Edge Factory for ready-made garments, which is a small enterprise with investments of LE10 million and employs 160 workers, mostly women.