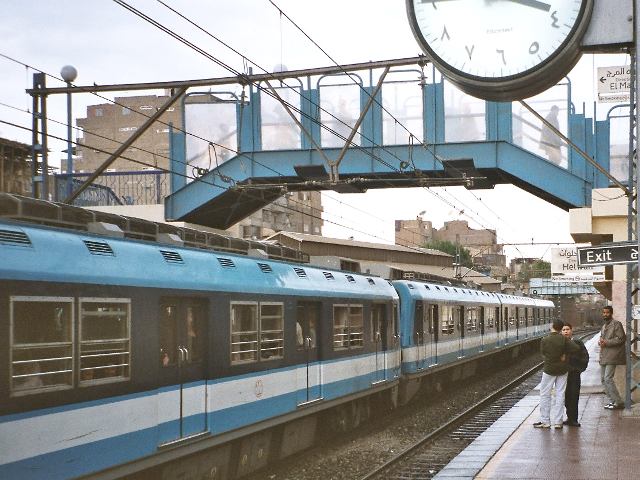 Minister of Investment and International Cooperation Sahar Nasr and Transport Minister Kamel al-Waziri met with French Ambassador to Cairo Stephane Romatet at the Investment Ministry headquarters to discuss cooperation in the field of transport.
Waziri suggested increasing French companies' investment in the field of transportation in Egypt, referring to a number of projects carried out by French companies for the railways and metro, including the third metro line.
In November 2015, the contract for the third phase of the third metro line was signed between a French-Egyptian consortium, including French companies Alstom and Colas Rail.
French companies will implement the double-distance line between al-Marg old and new metro stations.
Egypt is negotiating with a French consultancy office regarding the development of the Abu Qir railway line in Alexandria and the Giza-Beni Suef railway line.
The ministry is also negotiating with the French Development Agency in coordination with the Ministry of Investment and International Cooperation over the development of al-Raml station in Alexandria.
Alstom is developing the electrification mechanisms for the signals on the Beni Suef-Assiut railway line.
Thales Group is developing the electrification mechanisms for the signals of the Cairo-Alexandria and Assiut-Sohag-Nag Hammad lines.
Wazir pointed out that these projects are being implemented in accordance with scheduled plans, adding that the Ministry of Transport is keen on paying French companies their full dues on the agreed dates.
Nasr said that the Investment Ministry is coordinating with the Ministry of Transport to attract investments to the transport sector and provide grants for transportation projects.
France is keen to help Egypt succeed in its transport projects, said Romatet.
He said that the French president will visit Egypt soon to push for cooperation with the Ministry of Transport, adding that the French Development Agency is ready to allocate 100 million euros to finance the development of the Alexandria tram.
Edited translation from Al-Masry Al-Youm