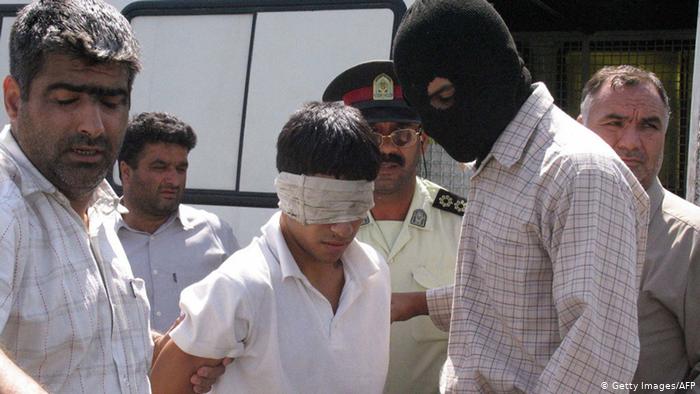 The US on Wednesday accused Iran of violating fundamental human rights after Iranian Foreign Minister Mohammed Javad Sarif endorsed the execution of gay people.
Sarif defended his country's draconian policies at a joint press conference with German Foreign Minister Heiko Maas in Tehran on Monday.
A reporter from German tabloid Bild asked: "Why are homosexuals executed in Iran because of their sexual orientation?"
He responded: "Our society has moral principles. And we live according to these principles. These are moral principles concerning the behavior of people in general. And that means that the law is respected and the law is obeyed," after railing against human rights violations by the US and Israel.
Maas, who was in Iran to negotiate the continuation of the nuclear deal, largely ignored the issue at the time.
Read more: Amnesty International reports global drop in executions
Inhuman and unacceptable
The foreign ministry's Michael Roth later clarified to Bild: "LGBTI rights are human rights. And they have always been. Everywhere. No religious, cultural or ethnic tradition justifies state persecution, especially the execution of homosexuals. In Iran and seven other countries worldwide, homosexuals face the death penalty. That is inhuman and completely unacceptable."
His comments came after Maas was criticized by German politicians for not addressing the issue at the time.
The US ambassador to Germany and the country's most senior openly-gay official, Richard Grenell, on Wednesday slammed Iran for its position in comments to German and Israeli media.
"The Iranian regime has violated basic principles of the United Nations," he told the German Press Agency (DPA).
"UN members should honor (the UN Universal Declaration of Human Rights) if they want to be members at all. The criminalization of homosexuality plainly violates this declaration."
Homosexuality violates Islamic Law in Iran and can be punishable by death. Several thousand people have been executed for homosexuality since the 1979 Islamic revolution, according to some rights activists.