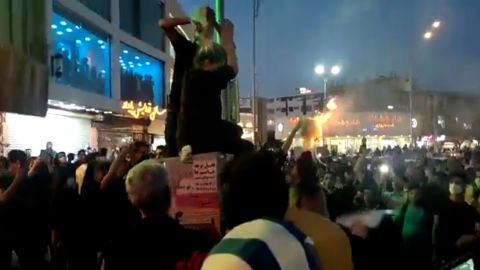 In the video, a massive crowd cheers as a woman lifts a pair of scissors to her hair – exposed, without a hijab in sight. The sea of people, many of them men, roar as she chops off her ponytail and raises her fist in the air.
It was a powerful act of defiance Tuesday night in the Iranian city of Kerman, where women are required to wear hijabs (or headscarves) in public, as outrage over the death of a woman in police custody fuels protests across the country.
Iranian authorities said Wednesday that three people, including a member of the security forces, have been killed in the unrest, which has stretched into a fifth day.
Human rights groups have reported that at least seven people have been killed.
The death last week of 22-year-old Mahsa Amini, who was arrested in Tehran by morality police – a dedicated unit that enforces strict dress codes for women, such as wearing the compulsory headscarf – has sparked an outpouring anger over issues ranging from freedoms in the Islamic Republic to the crippling economic impacts of sanctions.