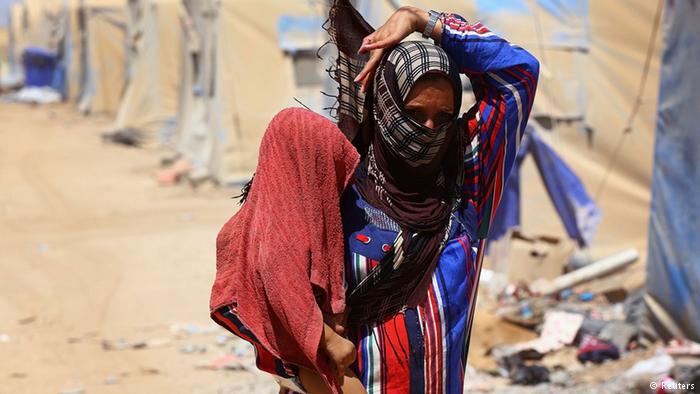 Women and children believed to have links to the "Islamic State" (IS) militant group suffer "harrowing" sexual exploitation and discrimination in Iraq's refugee camps, Amnesty International said on Tuesday.
More than 2 million were displaced from their homes after "IS" militants swept through Iraq in 2014.
What did Amnesty find?
Women were being coerced and pressured into entering sexual relationships in exchange for cash, humanitarian aid and protection from other men.
The women also faced the risk of rape, with at least four women telling Amnesty that they had either witnessed rape or heard the screams of victims.
Female-led households are abused, mistreated and deprived of food and health care.
'Foundation for future violence'
Lynn Maalouf, Amnesty's head of Middle East research wrote: "Women and children with perceived ties to IS are being punished for crimes they did not commit …This humiliating collective punishment risks laying the foundation for future violence."
"To put an end to the poisonous cycle of marginalization and communal violence that has plagued Iraq for decades, the Iraqi government and international community must commit to upholding the rights of all Iraqis without discrimination," Maalouf said. "Without this, there can be no national reconciliation or lasting peace."
Karl Schembri, Middle East regional media adviser for the Norwegian Refugee Council said: "After what they've gone through, their vulnerability makes them victims of human exploitation once again."
Funding shortfalls: The collective punishment being meted out to displaced women and children by security personnel and others is likely to further delay the return of peace in the war-torn country, which is already grappling with a shortage of the funds needed for initial reconstruction.
'The Condemned': The London-based rights group's latest report is based on 92 interviews with women in eight camps for displaced Iraqis in the provinces of Nineveh and Salaheddin, north of Baghdad. The report is titled: "The Condemned: Women and Children Isolated, Trapped and Exploited in Iraq."
'IS' ousted: Iraq declared victory over the jihadis late last year after a grueling three-year campaign against "IS," which had captured large swathes of territory in the country. The battle displaced hundreds of thousands of Iraqis and devastated several towns and cities.
ap/aw (Reuters, AP, AFP)