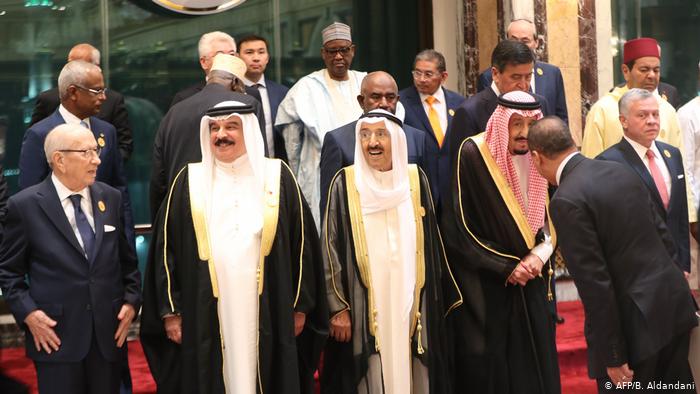 The leaders of 56 Muslim-majority countries on Saturday opposed any Middle East peace plan that favors Israel and undermines Palestinians.
The Saudi-hosted summit of the Organization of Islamic Cooperation (OIC) in Mecca condemned countries that have made the "illegal and irresponsible decision" to recognize Jerusalem as the capital of Israel.
US President Donald Trump recognized Jerusalem as Israel's capital in 2017, angering Palestinian authorities and many Arab nations. In May 2018, Trump moved the US Embassy from Tel Aviv to Jerusalem. Guatemala followed suit soon afterwards.
Jerusalem is claimed by both Israelis and Palestinians as their capital.
"The Palestinian people have the right to achieve their inalienable national rights, including their right to self-determination and the establishment of an independent and sovereign Palestinian state," the OIC statement said.
Read more: UN agency for Palestinians UNRWA rejects US call to close it down
Kushner's Middle East plan
Jared Kushner, Trump's son-in-law, is set to present economic aspects of his Middle East peace plan at a conference in Bahrain later this month. He was in Jerusalem on Friday on a regional tour aimed at selling his plan to the Arab nations.
The Trump administration is hoping that its alliance with Saudi Arabia against Iran would help gain backing for its Middle East peace plan. But Saudi King Salman told OIC countries that the Arab nations would not compromise on the Palestinian issue.
"The Palestine cause is the cornerstone of the works of the Organization of Islamic Cooperation, and is the focus of our attention until the brotherly Palestinian people get their legitimate rights," Salman said.
"We reaffirm our unequivocal rejection of any measures that would prejudice the historical and legal status of Quds (Jerusalem)," he added.
Read more: Donald Trump says he may travel to Jerusalem for embassy opening
OIC's anti-Iran posture
Despite the OIC's indirect opposition to the Trump administration on the Palestinian issue, the bloc showed affinity to Washington on its conflict with Iran, which was absent from the summit along with Turkey.
Washington enjoys a great deal of support from Riyadh over its policy to contain Iran in the region. King Salman used the OIC platform to slam Tehran, warning that "terrorist" attacks in the Gulf region could imperil global energy supplies.
"We confirm that terrorist actions not only target the kingdom and the Gulf region, but also target the safety of navigation and world oil supplies," the king told OIC member states.
Read more: Saudi king: Iran-backed groups threaten global oil supplies
Iran strongly denies any involvement in damaging four vessels – two of them Saudi oil tankers – in sabotage attacks off the United Arab Emirates coast.
Analysts say the partisan nature of the OIC summit was evident from its condemnation of Iran and the remarks by the bloc's secretary-general that "undermining the security of the kingdom [Saudi] effectively undermines the security of the Arab and Islamic world."
shs/jm (Reuters, dpa, AFP, AP)