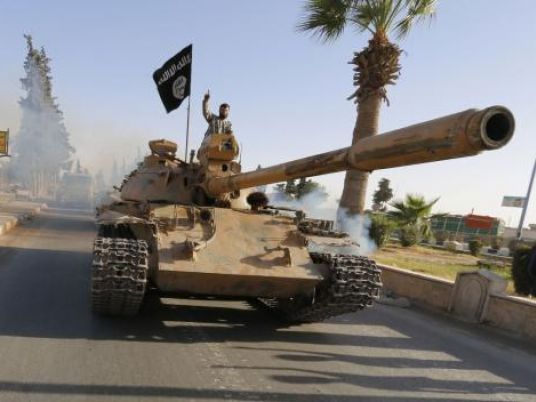 Islamic State has executed a Syrian it accused of belonging to a militant cell that ambushed its fighters and blew up its vehicles in the town of al-Mayadin near the border with Iraq, a monitoring group that tracks the conflict said on Thursday.
Islamic State is fighting both the Syrian army and rival insurgents along the edges of the territory it controls. But there has also been a spike in guerrilla-style attacks by groups of Syrians against Islamic State fighters inside their strongholds in Raqqa and Deir al-Zor provinces.
The Syrian Observatory for Human Rights, which uses a network of sources across the country to report on the war, said the man was beheaded and his body crucified in a public park in the town with his head left displayed for three days.
He was accused of "setting up a cell to fight Islamic State" by staging ambushes and detonating vehicles of fighters of the militant group, it said.
The Observatory, which is based in Britain, said four other men, one a student, were executed in Deir al-Zor for alleged ties with the Syrian authorities.
"One was arrested for smoking a cigarette. Only later did Islamic State accuse him of being an informer for the regime," Observatory head Rami Abdulrahman said. Islamic State bans smoking in areas under its control in line with its strict interpretation of Islam.
Syria's state news agency SANA said Islamic State executed three civilians and displayed their bodies in al-Mayadin. It did not say what their crimes were.
Small groups of Syrians who are hunting down Islamic State fighters say it is part of a guerrilla campaign that has emerged as a response to the group's growing brutality.
Islamic State controls nearly all of Deir al-Zor province, which stretches from Raqqa to the border with Iraq and links together its self-declared caliphate in the two countries.
The leader of one such guerrilla group, "White Shroud", says his group has killed more than 100 Islamic State fighters in attacks in Deir al-Zor province in recent months.
On Saturday, three activists who promote Islamic State were killed in or around the town of Al-Boleel in Deir al-Zor, not far from al-Mayadin, where an Egyptian Islamic State executioner who carried out beheadings was earlier found with his head cut off.
As with other areas under its rule, Islamic State crushes dissent in Deir al-Zor, where its control expanded rapidly after it seized the Iraqi city of Mosul in June. Islamic State executed 700 members of one rebellious tribe, the Sheitaat, the Observatory reported in August.