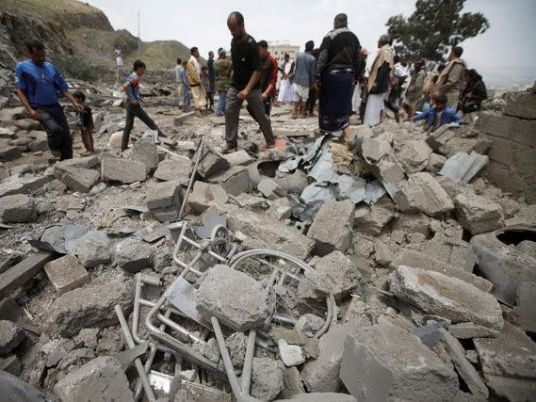 The Islamic State group affiliate in Yemen claimed responsibility for a suicide car bombing early Tuesday that targeted security forces in the southern port city of Aden, killing at least six people and injuring scores.
The attack took place at a building in the Sheikh Othman district in the central part of the city. Residents several kilometers (miles) away heard a large explosion and saw thick black smoke rising from the area. The attack caused panic in this densely populated area, which is busy with schools, markets and street vendors.
Ambulances rushed to the site, where the building was badly damaged, and debris and body parts littered the area.
According to medical officials, six soldiers were killed but officials believe the death toll will rise. They spoke on condition of anonymity because they weren't authorized to speak to the press.
The Islamic State affiliate in Yemen claimed responsibility in an online statement, hours after the attack. It named the suicide bomber as Abu Hagar al-Adani, which indicates the attacker hailed from Aden.
The security building is an operations center for the UAE-trained Security Belt, a parallel body to the government's forces. The UAE is a main pillar in the Saudi-led coalition that has backed President Abed Rabbo Mansour Hadi and waged a two-year air campaign against Shiite Houthi rebels who swept the capital Sanaa in 2014.
This attack was the second by IS in Aden in less than two weeks. On Nov. 5, militants attacked the security headquarters in Aden, killing 18 and injuring many more, taking over the building, and seizing hostages.
The increase in violence comes amid Saudi-led coalition airstrikes targeting Houthi rebels in northern Yemen that have caused thousands of civilian deaths.
In the western province of Taiz, coalition airstrikes struck a radio tower in the mountain of Arous early Tuesday, killing four women and one security guard. The radio station, Watani, is run by the Islamist Islah party, the Muslim Brotherhood branch in Yemen, which is a top opponent to the UAE.
After the coalition reversed its decision to shut down all ports and airports in Yemen, Aden international airport has opened on Tuesday and received the first flight from Cairo.
Yemenia airlines has also reopened its offices and travelers lined up in long queues in several districts across the city.