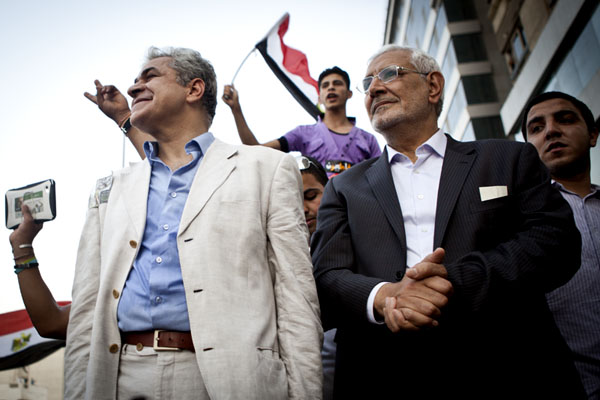 The Freedom and Justice Party, the Nour Party and the National Salvation Front (NSF) may be discussing the formation of a new Cabinet that they hope would replace that led by Prime Minister Hesham Qandil, according to informed sources.
The ministries in such a coalition Cabinet would be divided equally among the three parties, and Wafd Party head al-Sayed al-Badawy would serve as prime minister, the sources suggested. However, no agreements have been made as yet, they added.
NSF leading figure Amr Moussa said a meeting between the three parties was postponed from Thursday to sometime next week to discuss the possibility of forming a new Cabinet, and the delay in the parliamentary elections.
"I prefer to delay the elections for a year, for the new government to work on saving the economy and restoring security," Moussa said.
Popular Current founder and NSF leader Hamdeen Sabbahi said there are three immediate demands for President Mohamed Morsy's administration to meet if it hopes to find a solution to the current political crisis. These include the formation of a neutral government, the appointment of a new prosecutor general from among three judges to be nominated by the Supreme Judicial Council, and the development of a new election law that is approved by all political forces, and that takes into account an equitable division of electoral constituencies.
"But I believe the Salvation Front should not be part of the new government," Sabbahi said.
Frustrated by the deteriorating security situation, worsening economic crisis and the Morsy administration's failure to win political consensus, secular opposition forces and some Islamist groups have escalated calls to remove the Qandil Cabinet.
Sources told Al-Masry Al-Youm earlier on Thursday that Morsy had commissioned an aide to offer a truce with revolutionary groups. If they ended weekly protests, Morsy would accede to some of their demands, including forming a national unity government, the sources alleged.
Edited translation from Al-Masry Al-Youm