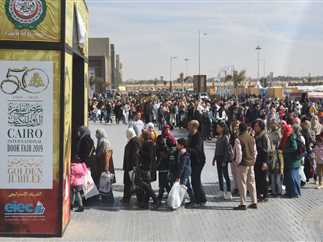 The presence of the Israeli ambassador at the Cairo International Book Fair in its golden jubilee a few days ago was rejected by intellectuals, the Writers' Union and all the trade unions that refuse normalization with the Israeli entity, Chairman of the General Egyptian Book Organization (GEBO) Haitham al-Hag said.
He added that the ambassador's visit was carried out privately without informing the book fair organizers, pointing out that he was not received by any of the organizers, the Culture Ministry, or General Egyptian Book Organization officials.
He stressed that the position of intellectuals is consistent with the higher interest of the state and its institutions in dealing with the Israeli entity and its representatives.
Visitors to the book fair until Sunday reached 2.5 million, according to Hag.
The fair's duration will not be extended because other exhibitions are scheduled to be held at the Egypt International Exhibition Center after the book fair starting February 11, he said.
Edited translation from Al-Masry Al-Youm