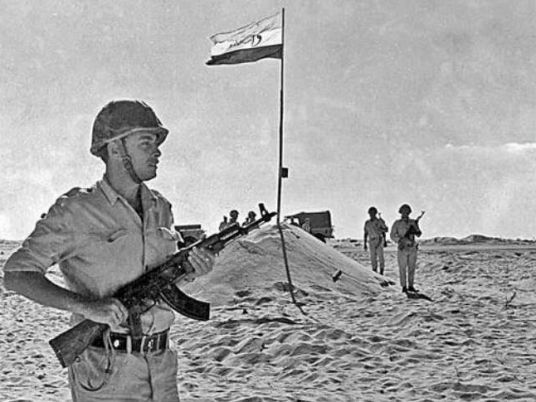 Egyptian social media users took to mocking claims made by the spokesperson of Israel's army Avichay Adraee on the sixth of October war anniversary that Israel had forced Egypt and Syria into a ceasefire.
https://www.facebook.com/IDFarabicAvichayAdraee/posts/3668488233201742?__xts__%5B0%5D=68.ARDhkDciQVylvY-NSc4u-CibwG9Ariq75jCeTh-PcurVHrft8rnh5ijPjt0htpJrE2BV9o4eOXbmJo9RjNji14VoYJEt7vmbJeXybsUcL–45rwkzb2lm7owXZ_TLcHWY3x6h-kSTmYPxRjAl93rxVwjekkJE_NFjvnnqVF24O8Qi_f2WFCCyx99j1JU4H3KYy88apld8YJRpHq9MKLnL9a4cPtvCxXiT1yKILKt-I-54e4HLAKOdGJrFmk3oICMNBHg_5YOd67qgRRSQqCeZoNY4icCTalv0LmbJhoIE8-FEn_1rkIDiehsymZX-grLHdjnP09HuXaEbYAmWmsxH7CUTA&__tn__=-R
"On this day, on the sixth of October 1973, the fires of the Yom Kippur War broke out," Adraee said in a statement on his official Facebook page.
"In Israel, it is called the Yom Kippur War, and in Egypt it is called the October War. Israel was surprised on its holiest day, Yom Kippur. The big surprise was the Egyptian and Syrian armies making some important field achievements in the early stages of the war, as the Egyptian army crossed the Suez Canal and spread along its eastern bank, while the Syrian forces infiltrated the Golan," he wrote.
Adraee then falsely claimed that "Israel turned things upside down, as the IDF reached the West Bank of the Suez Canal, 100 km from Cairo, while Damascus was within range of Israeli artillery. After that, Egypt and Syria agreed to a ceasefire and signed disengagement agreements."
His comments were met by outrage and mockery on Egyptian social media.
The 6 October War is a historic victory celebrated every year in Egypt.
In 1973, Egypt and Syria waged war against Israel after Israel occupied the Sinai Peninsula in Egypt, the Golan Heights in Syria and the Gaza Strip and West Bank which were under Jordanian rule at the time.
The war commenced on October 6 as part of a plan by late President Mohammed Anwar al-Sadat.
Egyptian forces crossed the Ber Lev Line, fortifications built by Israel along the Suez Canal, in six hours hours only using water cannons. The Syrian forces on the other hand destroyed Israel's fortifications in the Golan Heights. The war officially ended on October 24 with an agreement after a crushing defeat for the Israeli army.