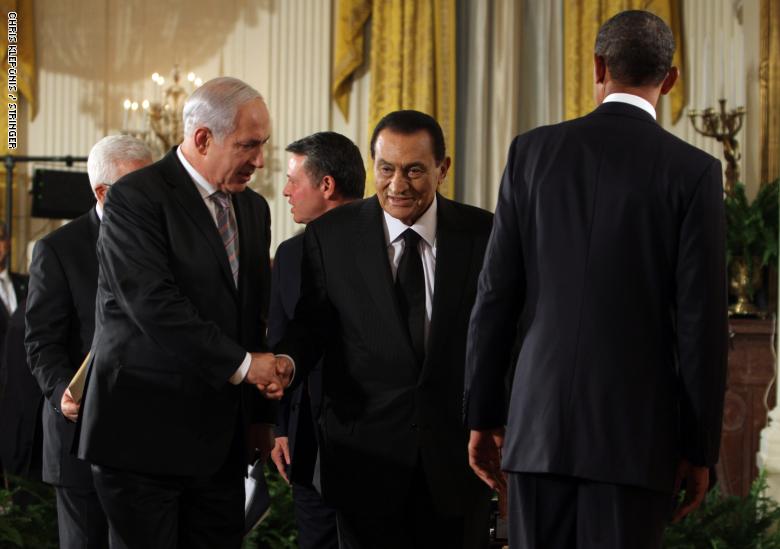 Israeli Prime Minister Benjamin Netanyahu joined in mourning for Egypt's former president Hosni Mubarak, who passed away Tuesday at 92.
Netanyahu tweeted, "On behalf of Israel people and the government of Israel, I would like to express deep sorrow over the passing of former President Hosni Mubarak."
"President Mubarak was my personal friend, and a leader who led his people to peace and security, and to peace with Israel."
Netanyahu said he had met Mubarak several times, and was impressed by his dedication to keeping peace with Israel. The Israeli prime minister pledged to continue this path of peace.
He sent condolences to Mubarak's family, President Abdel Fattah al-Sisi, and the people of Egypt.
The Egyptian presidency announced three days of mourning following Mubarak's death, starting on Wednesday.
Mubarak ruled Egypt for 30 years until he was ousted on February 11, 2011 during an 18-day uprising, part of the larger Arab Spring.
Mubarak also previously faced charges of corruption, as well as charges of complicity in the killing of protesters during the uprising that led to his overthrow.
He was sentenced to life imprisonment in 2012 after a court convicted him of complicity in the killing of demonstrators during the revolution, but Mubarak was later retried and subsequently acquitted and released in 2017.
Edited translation from Al-Masry Al-Youm