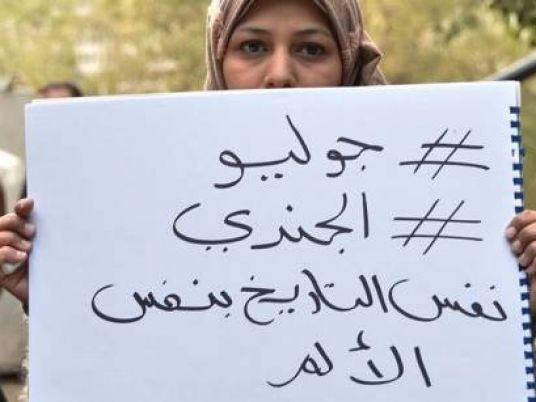 The Deputy Chief Prosecutor of Rome arrived in Cairo on Tuesday to discuss developments in the investigation into the murder of Italian student Giulio Regeni.
Sources told DPA that the Italian official will meet senior security and judicial officials, including Egypt's chief prosecutor Nabil Sadek.
Regeni, a 28-year-old Italian PhD student at Cambridge University, disappeared in Cairo on January 25, 2016, the fifth anniversary of the 2011 uprising. Ten days later, his body was found along the side of the Cairo-Alexandria Desert Road, bearing the apparent signs of torture.
Egypt and Italy have been at loggerheads since the student's death. After months of disagreement over the conduct of investigations into his death, the Italian parliament voted to halt supplies of spare parts for F-16 fighter jets to Egypt, a move that Egypt said could harm biltateral co-operation in a number of miltiary and security fields.
Italy's Foreign Minister Paolo Gentiloni said last week that the case of Regeni is "an open wound" for his country.
"We got some signs of hope from Egyptian judicial authorities in September, which Rome prosecutors interpreted as a willingness to collaborate," he said.
However, he continued, "We are not satisfied, and it's no accident that we withdrew our ambassador in Egypt and we have not yet sent one back to Cairo."