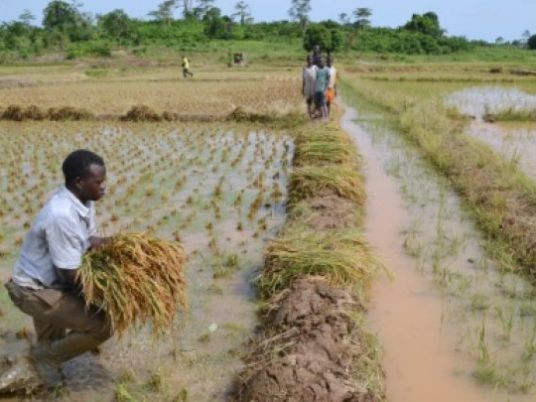 Verdant rice paddies stretch as far as the eye can see around Agboville, the heart of a drive for food self-sufficiency in Ivory Coast, better known as the world's top producer of cocoa — for export.
Less than an hour north of the economic capital Abidjan, thousands of croaking frogs accompany the Agboville rice farmers who produce some 600 tons a year.
They have an advantage over the bulk of the country's rice growers — a decades-old dam that guarantees water for irrigation.
"Eighty-five percent of Ivorian rice still relies on rain," says Yacouba Dembele, head of the National Office of Rice Growing Development, urging greater investment in water management.
He is battling to get Ivorian farmers to grow food crops rather than the more profitable cocoa and cashews for export they favor, even though the fertile west African country is struggling to feed a growing population.
Last year, Ivory Coast had to import 900,000 tons of rice to satisfy domestic demand, even after a record harvest of 1.34 million tons.
"Growers have let themselves be lured by profit, abandoning sustenance crops," laments Jean-Baptiste Koffi, president of the Federal Union of Ivory Coast Consumers.
"They've become involved in speculative (crops) like cocoa and more recently rubber, even as people are dying of hunger and getting only one meal a day," he says.
Cocoa alone accounts for more than half of Ivory Coast's export income, while it is also the world's second-largest producer of cashew nuts.
The high cost of imported food has stoked anger, especially at a time when the economy of the former French colony is booming, with annual GDP growth reaching 9 percent since a decade of unrest ended in 2011.
The government wants to attain "rice self-sufficiency" by next year after learning from riots in 2008 sparked by sky-high prices for rice, milk, meat and fish — all imported with duties exceeding 50 percent.
The drive is a constant refrain for President Alassane Ouattara as he campaigns for re-election in October, along with a call for the country to join the ranks of emerging nations by 2020.
'Naturally better'
But domestic rice is proving a hard sell, notably because it is more expensive than imports of the grain and also because it is not as white as its foreign rivals.
Popular former footballer Didier Otokore, now a civil society activist, says Ivorian rice is "naturally better" and does not contain the preservatives that imports do.
Mory Diabate, owner of an Ivorian rice company, said subsidies given to growers in Thailand, Vietnam, the United States and India — the sector's global giants — mean they have a competitive advantage.
But rather than denouncing that aid, Diabate says the Ivorian government should follow suit, saying the move "could create a million jobs".
It would clearly help the nation's trade balance. Last year's rice imports cost 380 million euros (US$420 million), equivalent to nearly a quarter of the country's 2015 national budget, notes an agriculture ministry official.
The focus on rice self-sufficiency comes as the country's population is surging, with an average of 5.4 children per family according to the latest census.
Today's population of 23 million compares with a mere four million at independence in 1960.
And the nation has seen significant urban drift in the past 30 years, placing increased pressure on farmers to produce.