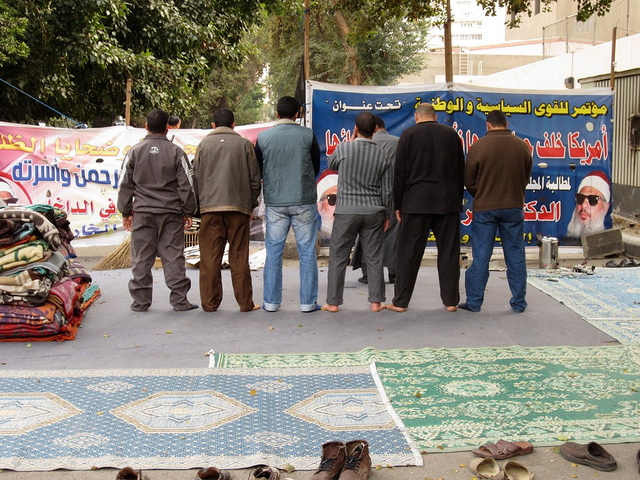 Jama'a al-Islamiya and the family of Omar Abdel Rahman, a former leader of the group who is serving a life sentence in the United States, announced Wednesday that his son Mohamed would deliver Eid prayers outside the US embassy to demand his release.
The sermon will be delivered by his son, Mohamed.
His other son, Abdallah, blamed President Mohamed Morsy and the government for his father's condition. "If the Brotherhood feels it made sacrifices for the revolution, my father did so at the time of Nasser, Sadat and Mubarak," he said.
"The president must tell us what he is doing for my father, if anything at all," he said, adding that the Muslim Brotherhood was not involved in that issue. "We have been protesting for 15 months without the government responding."
Jama'a al-Islamiya said it is sending a message to the embassy that it will never abandon Abdel Rahman and leave him behind bars.
Abdel Rahman, often known as the "Blind Sheikh" was tried in front of both military and high state security courts in Egypt for involvement in the assassination of former president Anwar Sadat. He was found innocent and set free in 1984. He was convicted in 1995 of terrorism conspiracy and plotting to overthrow the US government in connection with the 1993 World Trade Center bombings.
Edited translation from Al-Masry Al-Youm