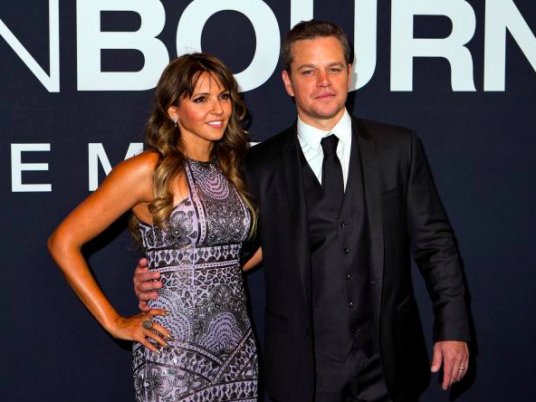 Audiences turned out in force to see Matt Damon in "Jason Bourne," pushing the spy sequel to a sterling US$60 million debut.
The film marked the actor's return to the action franchise after a nine-year hiatus, during which he repeatedly hinted that he might be done with his most popular role. He and director Paul Greengrass argued that 2007's "The Bourne Ultimatum" had brought the character full circle by filling in him on the shadowy bureaucratic maneuvers that transformed him into a killing machine. What was left?
Be it creative spark or big paydays, the pair were somehow lured back to the series. That's good news for Universal, which ran the risk of losing a Tiffany franchise without Damon's involvement. In the interim, the studio had made an ill-conceived attempt at cinematic universe building with "The Bourne Legacy," introducing Jeremy Renner as another amnesic ass-kicker dubbed Aaron Cross. The crowds didn't exactly flock to see this sub-Bourne, and the film grossed about $150 million less than "The Bourne Ultimatum" globally.
As a sign of Damon's appeal, audience surveys reveal that the actor's presence above-the-title was the second most frequently cited reason that people turned up for "Jason Bourne."
"It's no secret that people were anticipating a reunion of [Damon and Greengrass]," said Nick Carpou, Universal's domestic distribution chief, adding "Putting the team back together made smart business sense."
"Jason Bourne" marks the series' second highest opening, behind "The Bourne Ultimatum's" $69.3 million debut. When adjusted for inflation, however, it trails all but "The Bourne Legacy's" opening weekends. Universal spent $120 million to make the latest installment and released it in 4,026 theaters.
"It proves that this is a franchise that's still viable and that it can continue if they want to keep making them," said Paul Dergarabedian, senior media analyst at ComScore. "'Jason Bourne' is the perfect title for this film, because that's who everyone wanted to see return."
Aaron Cross…not so much.
'Bad Moms' gets a smile
Even with Bourne's resurgence commanding most of the attention, the weekend's other major new wide release managed to score a respectable debut. STX Entertainment's "Bad Moms" opened to a healthy $23.4 million and a third place finish. That's a strong return on the film's $20 million production budget. It also gives STX Entertainment a much needed win after its other summer release, the Civil War drama "Free State of Jones" collapsed at multiplexes.
"Bad Moms" originally was set up at Paramount Pictures and was intended to star Leslie Mann with the actress' husband and frequent collaborator Judd Apatow producing. But Mann dropped out, as did Apatow, and the project migrated to STX. It stars Mila Kunis, Kristen Bell, and Kathryn Hahn as women who reject the pressure to be perfect parents, and instead indulge in hard partying and a more relaxed, Chablis-fueled approach to child-rearing.
"It is a terrific movie that has a lot of heart and a lot of laughs and it plays great across the board," said Kevin Grayson, STX's domestic distribution chief.
Grayson believes the film will continue to draw crowds in the coming weeks, because there are no other raunchy comedies with female leads on deck. That could help the picture withstand "Suicide Squad's" opening next weekend. The comic book movie is tracking to open to as much as $125 million, establishing a new record for an August launch.
STX is the brainchild of Robert Simonds, the producer of "Cheaper by the Dozen" and "The Pink Panther" films. Armed with backing from the likes of TPG, Hony Capital and Huayi Brothers, the studio has ambitions to spend as much as $1.1 billion annually on producing, marketing and self-distributing its films by 2017. So far, its early efforts have been mixed. It scored with low-budget horror films such as "The Gift" and "The Boy," but lost money on the thriller "The Secret in Their Eyes" and the point-of-view action film "Hardcore Henry."
Some newcomers
Among newcomers, Lionsgate fielded "Nerve," a $20 million thriller about a digital truth or dare-style game that takes a deadly turn. The film stars Dave Franco and Emma Roberts. It opened Wednesday in order to get a jumpstart on the competition, earning $15 million over its first five days and $9 million over the weekend.
"We felt the best approach was to let the movie do the heavy lifting and let word of mouth carry it," said David Spitz, co-president of domestic theatrical distribution at Lionsgate. "If you read all the comments whether it's on Instagram or Facebook or Twitter, the response is amazing. The audience loves the film. "
In holdover news, Paramount's "Star Trek Beyond" slipped roughly 60% in its second weekend to gross $24 million and nab second place. That brings the sci-fi sequel's domestic haul to $105.7 million. With a hefty $185 million budget, the film needs to resonate overseas if it wants to make a profit, because, as it stands, that kind of a result doesn't justify sequels or guarantee profits.
Illumination and Universal's "The Secret Life of Pets" continues to be one of the biggest hits of the summer. The animated offering took fourth place with $18.2 million. The look at what pets do when their owners are at work has earned $296.2 million and seems destined to inspire more installments in the furry friend saga. After shattering records in 2015, Universal got off to a more modest start this year, with films like "The Huntsman: Winter's War" and "Warcraft" failing to catch fire. However, the studio has bounced back in recent weeks, revived by the success of "The Secret Life of Pets" and "Jason Bourne."
"Lights Out," a horror film from New Line, rounded out the top five, picking up $10.8 million to bring its total to $42.8 million after two weeks.
Arthouse
On the art house front, Summit and Roadside Attractions opened "Indignation to $89,072, for a $22,268 per-screen average. The drama about a precocious college student who clashes with the conservative head of his college marks the directorial debut of former Focus chief James Schamus.
This summer has been a mixed bag from a box office perspective. The industry has been in a funk as high-profile films such as "Alice Through the Looking Glass," "The Legend of Tarzan," and "The BFG" have flopped. However, this weekend's receipts are an improvement on the year ago period when "Mission: Impossible – Rogue Nation" led the box office. Sales are up roughly 30% thanks to the one-two punch of "Jason Bourne" and "Bad Moms."
"We're starting to chip away at the summer deficit," said Dergarabedian. "Maybe with 'Suicide Squad' opening, we'll see the end to all this volatility."