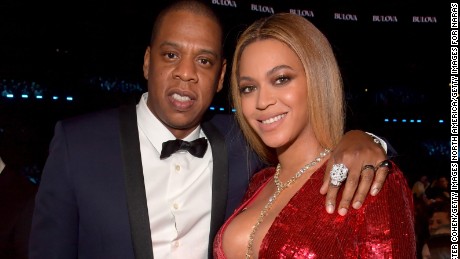 Jay-Z released his new album "4:44" midnight on Friday and sent the Internet into a frenzy.
The rapper is calling his album's title track, "4:44", one of the "best songs" he's ever written.
"'4:44′ is a song that I wrote, and it's the crux of the album, just right in the middle of the album. And I woke up, literally, at 4:44 in the morning, 4:44 AM, to write this song," he told iHeartRadio's The Beat in an exclusive interview.
"So it became the title of the album and everything. It's the title track because it's such a powerful song, and I just believe it's one of the best songs I've ever written."
Fans are questioning whether "4:44" is a response to his wife's 2016 visual album "Lemonade" in which she seemingly called him out on nearly every track, sparking rumors of infidelity; the rapper seems to address Beyoncé's hints from "Lemonade" that the couple hit a rocky patch in their marriage. Part of "4:44″s lyrics go: "And if my children knew, I don't even know what I would do / If they ain't look at me the same, I would prolly die with all the shame / You did what with who? What good is a ménage à trois when you have a soulmate, you risked that for Blue?"
Kanye West famously called out Jay-Z while on stage at one of his concerts last year for not being there for him during tough times, and Jay appears to counter this in his track "Kill Jay Z", which states: "You gave him 20 million without thinking/He gave you 20 minutes on stage, was he thinking?/'wrong with everybody?' is what you sayin', But if everybody's crazy, you're the one that's insane."
After several months of teasing the album with mysterious subway ads and teaser video clips, Jay-Z on released "4:44" exclusively to TIDAL and Sprint customers. iHeartMedia will also play the album across 160 stations until Saturday.