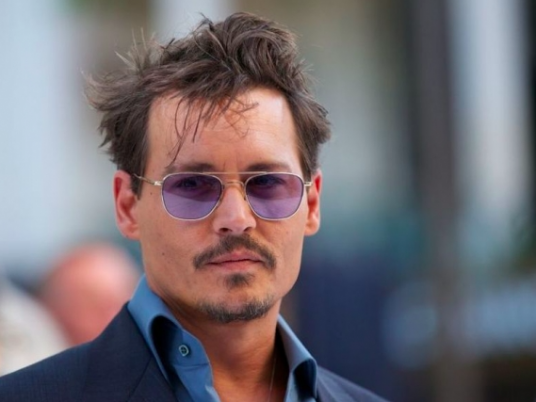 Johnny Depp tops the cast of stars headed to Venice this week for what is shaping up as something of a watershed edition of the world's oldest film festival.
Amid the usual mix of big-budget Hollywood productions and more cerebral offerings from international auteurs, this year's event breaks new ground with the first major feature film to be produced in-house by Netflix among 21 works competing for the festival's top prize, the Golden Lion.
Four years after it started acquiring its own original television content with Kevin Spacey's acclaimed "House of Cards", the US streaming giant is hoping for a similar publicity, credibility and subscriber-generating hit with "Beasts of No Nation", a child soldier drama featuring Britain's Idris Elba as a warlord called 'Commandant' and an otherwise largely unknown cast.
The Cary Fukunaga-directed film, based on a novel by Nigerian writer Uzodinma Iweala, will be released to cinemas on the same day in October as it is made available for Netflix's 65 million subscribers around the world to stream into their homes.
That has not gone down well with major cinema chains in the United States and elsewhere who have point blank refused to distribute the film, arguing that to do so without any period where it is only available in their theatres would be suicidal.
Netflix has, however, been able to find one chain which will ensure "Beasts…" opens in 19 US cities on the same day as its digital release — and that is enough to qualify the film as a bona fide made-for-cinema piece of work eligible to be nominated for an Oscar.
Against a backdrop of fragmenting business models, most industry figures, Venice director Alberto Barbera among them, see the barriers between home and cinema viewing being eroded. Consumers are asserting their right to choose when and how they watch their films, while the likes of Netflix and Amazon Prime are beginning to put significant resources into film-making.
"They are going to be important players in production and distribution. We simply can't ignore them," Barbera said at the festival's launch in July.
– 'Real life sociopath' –
Pirates of the Caribbean star Depp will be treading the red carpet to promote his performance as Irish-American mobster James 'Whitey' Bulger in Scott Cooper's "Black Mass", one of two blockbuster productions being shown for the first time during the September 2-12 festival.
The other is "Everest", a 3D thriller based on the 1996 disaster on the Himalayan mountain, which stars Jake Gyllenhaal and Kiera Knightley and will open the festival on Wednesday.
On a roll after the opening slot provided the global launchpad for "Gravity" two years ago and then "Birdman" in 2014, festival director Barbera will be hoping the Baltasar Kormakur-directed curtain-raiser for this year's season has a similar impact.
Despite their big names and huge budgets, "Everest" and "Black Mass" appear to have been matched in terms of pre-festival buzz by "The Danish Girl".
The latest work by "The King's Speech" director Tom Hooper features Eddie Redmayne in the role of a Danish-born artist who was one of the first people to undergo sex reassignment surgery.
The tale of how Einar Wegener became Lili Elbe in 1930s Germany is already being tipped as a potential source of another Oscar for Britain's Redmayne, a best actor winner for his portrayal of physicist Stephen Hawking in "The Theory of Everything".
Depp's portrayal of the middle-aged, largely bald Bulger sees him return to the territory of 1997's "Donnie Brasco", in which he played an FBI agent who infiltrates an Italian American crime family.
Bulger also helped the FBI break up Italian organised crime, but used the protection he acquired as a result to build his own powerful criminal empire in Boston.
For Depp, now 52, the role marks a return to more conventional roles after several years in which he specialised in playing larger-than-life, fantasy figures, and his backers say his legions of fans will not be disappointed.
"He is playing a real life sociopath and he nailed it," producer Brian Oliver told The Hollywood Reporter.