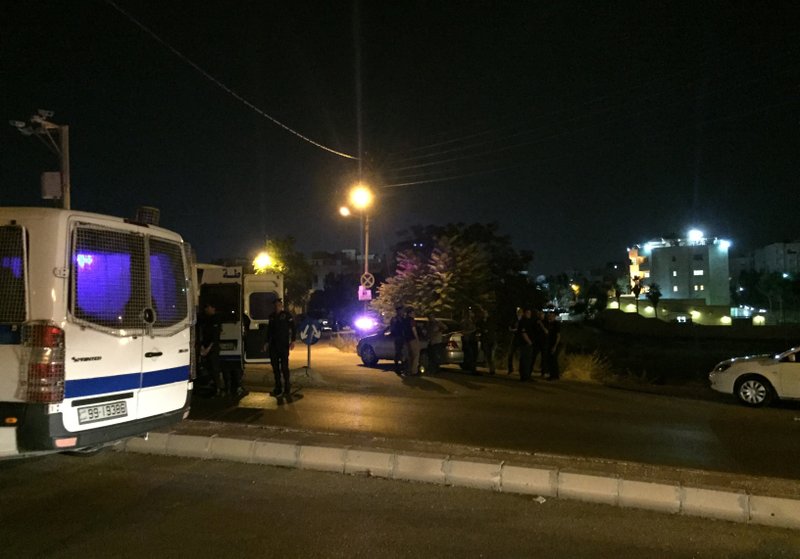 Several thousand Jordanians urged their government on Tuesday to close the Israeli embassy in Amman and scrap an unpopular peace treaty during the funeral of a young Jordanian shot dead by an Israeli security guard in the embassy.
Dozens of demonstrators chanted "No to an Israeli embassy or ambassador on Jordanian land" and called for a jihad (holy struggle) as they carried the coffin of Mohammad Jawawdah, 16, to his burial place in a cemetery in the capital.
Jordanian police said on Monday that Jawawdah, who worked in a furniture firm, had got into a brawl with the Israeli security guard after entering the fortress-like compound of the embassy on Sunday to deliver an order.
They said the Israeli security guard had fired on Jawawdah after the young man attacked him, but did not confirm Israel's account that he had used a screwdriver to stab the guard in what Israeli officials described as a "terrorist attack".
Israel said the security officer had acted in self-defense when he shot his attacker while his father said the young teenager had no militant links.
Jawawdah later died from his wounds, while a second Jordanian, the landlord of the house in the compound where the security guard lived, was also shot dead during the incident, Jordanian police said.
The staff of Israel's embassy in Jordan, including the security guard involved in the shooting incident, returned to Israel from Amman on Monday.
Israeli-Jordanian tensions have escalated since Israel installed metal detectors at entry points to Al-Aqsa mosque compound in Jerusalem after two police guards were shot dead by gunmen there on July 14.
Jordan's peace accord with Israel, the second to be concluded with Israel by an Arab country after Egypt, is unpopular with many Jordanians, many of whom are of Palestinian origin.
The kingdom has seen an outpouring of public anger against Israel in recent days over the Al-Aqsa situation, with thousands of Jordanians demonstrating last Friday against Israel in protests in Amman and in cities and refugee camps across Jordan.