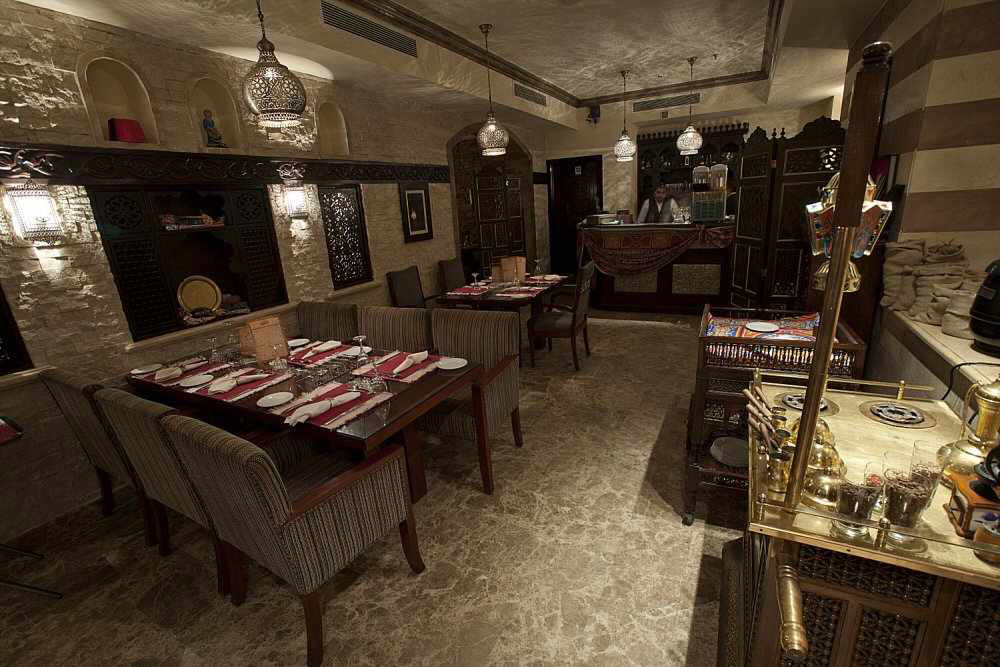 A specialized authentic restaurant with a touch of Oriental fantasy has recently opened its doors to Egyptian traditional food lovers.
Kasr al-Shouk arrives as a strong competitor to other Oriental restaurants in the country for its avant-garde touch to Egyptian food mixed with a sumptuous Oriental decor.
The newest addition to Michael Bakhom Street is also facing a tough challenge with its famous chain restaurants next door, including Makani, Cortigano and Al-Set Hosneya, which have succeeded in developing large client bases over the years.
Kasr al-Shouk is a mini-chain of two restaurants. The first was inaugurated in 6th of October City a year and half ago, and then — early this year — a second branch arrived in Dokki.
The restaurant's huge arabesque front reminds you of Old Cairo unique architecture, creating an illusory impression that you are about to step into the past.
Similar to outside, the inside of the restaurant is furnished with a blend of Oriental art and elegant touch displayed in the luxury wooden sofas, deep arm chairs and Islamic crafted hanging lamps.
For daytime diners, sitting beside the mashrabiya, located on the second story, is the best location for enjoying beams of light sparkling through the carved wood latticework windows.
Besides the restaurant's impressive chosen decoration, the 40s and 50s background songs bring the Oriental atmosphere to perfection.
My Kasr al-Shouk experience started with a round of appetizers including kobaba, sambousek (Egyptian meat pie), eggplant dip and falafel. However, if you are afraid of feeling stuffed before main course, just order the finger-licking warak enab (stuffed vine leaves).
The restaurant has an extensive selection of authentic local culinary dishes with beautiful cutlery. The menu features koshary, grilled ducks and pigeons, either stuffed with rice or grits, as well as oven-baked okra.
My personal favorites were molokheya, chicken kashka and maamar rice. The kebab was not quite delicious in comparison to other dishes. Though the main course arrived quickly, it was not hot, so I asked the waiter to reheat the food.
Save room for the homemade desserts, which are given additional unique flavors, making the experience of traditional food a little more exciting.
Om Ali, mahalabia, roz bel laban (rice with milk) and almond date balls are among the yummy choices for culminating your meal.
The service was flawless. The friendly, polite staff welcomes you with a hot towel before the meal and a free hibiscus drink, followed by complimentary molokheya as well as lupinus termis given at the door before leaving.
A play area and parking are available at the 6th of October City branch, a privilege that cannot be enjoyed on Dokki's packed streets.
The restaurant derives its name from one of the trilogy books by the Nobel Prize laureate and novelist Naguib Mahfouz. Some menu items are named after the trilogy's main characters, including Amina's ducks, Sultana's pigeons, Yasseen's shawerma, Sokareya drinks and Galila's kofta.
Address:
Dokki branch:
49 Michael Bakhom st., Dokki (beside Shooting Club)
Tel.: 16132 / 02-37498233
6th of October City branch:
October Commercial Mall, Al-Mehwar al-Khadamy (beside metro market)
Tel.: 016/8800932, 016/8800934