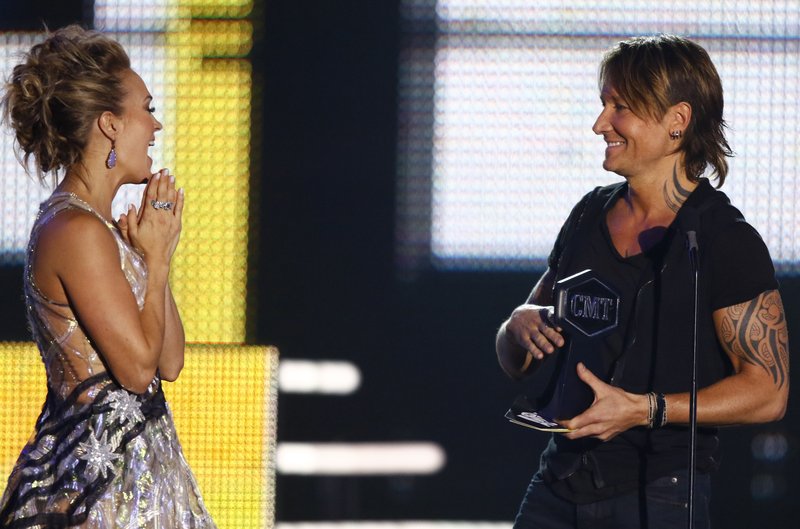 After walking away empty-handed at the Grammy Awards and the Academy of Country Music Awards earlier this year, Keith Urban found redemption at the CMT Music Awards, which aired live Wednesday from the Music City Center in Nashville, Tennessee.
The country star picked up four awards on Wednesday night in Nashville, including video of the year, male video, collaborative video and social superstar of the year.
Urban also performed, singing his disco-flavored hit "The Fighter" with Carrie Underwood.
She continued to dominate the CMT Awards, where she has won 17 times.
Wednesday night she won female video of the year and collaborative video.
The 2017 CMT Music Awards also honored the top acts in country music as well as lend its stage to pop, rock and R&B performers and Hollywood stars.
Ashton Kutcher, Jada Pinkett Smith and Katherine Heigl are among the presenters Wednesday in Nashville, Tennessee, where performers will include Earth, Wind & Fire, Peter Frampton and the Chainsmokers.
Keith Urban is the leading nominee at the fan-voted show to air live on CMT at 8.00pm EDT.
Carrie Underwood, Blake Shelton, Thomas Rhett and Little Big Town are set to perform. Luke Bryan will sing with Jason Derulo, while Earth, Wind & Fire will join Lady Antebellum and Frampton will perform with Brothers Osborne.
Jason Aldean and Darius Rucker will pay tribute to Gregg Allman, who died last month.
A list of winners at the 2017 CMT Music Awards
— Video of the year: Keith Urban, "Blue Ain't Your Color"
— Male video of the year: Keith Urban, "Blue Ain't Your Color"
— Female video of the year: Carrie Underwood, "Church Bells"
— Duo video of the year: Florida Georgia Line, "H.O.L.Y."
— Group video of the year: Little Big Town, "Better Man"
— Breakthrough video of the year: Lauren Alaina, "Road Less Traveled"
— Collaborative video of the year: Keith Urban featuring Carrie Underwood, "The Fighter"
— CMT performance of the year: Jason Derulo and Luke Bryan, "Want to Want Me" (from "CMT Crossroads")
— Social superstar of the year: Keith Urban
Associated Press