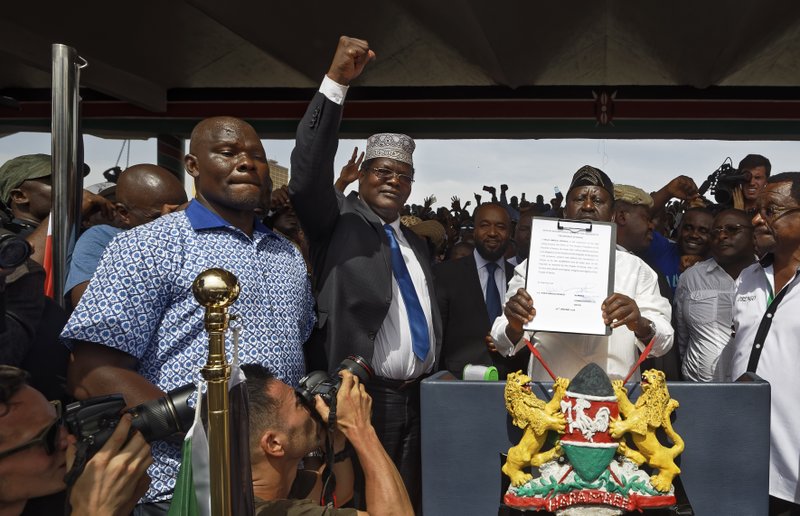 Tweeting from what he called "Toilet at Terminal 2," a Kenyan opposition politician said Wednesday he was still detained in the "filthy" facilities at the country's main airport after he refused an attempt to deport him.
Authorities should be punished for disregarding a High Court order on Tuesday for the immediate release of Miguna Miguna and his court appearance Wednesday, said James Orengo, a lawyer for the politician.
Miguna was deported to Canada last month in a crackdown on politicians who attended the mock inauguration of opposition leader Raila Odinga to protest President Uhuru Kenyatta's re-election. A court later ordered that Miguna's Kenyan passport be restored and that he be allowed to return.
However, when Miguna arrived on Monday at Nairobi's international airport plainclothes officers tried to hustle him onto an outbound plane, witnesses said. That failed when he protested.
On Wednesday, Miguna posted statements on social media saying he was still "detained inside a tiny and filthy toilet" in one of the terminals. "I have not eaten. I have not taken a shower. I have not been given access to my lawyers, family members and physicians."
Lawyer Japheth Mutinda, representing Kenya's attorney general, said Miguna could not appear in court because his entry into the country was still being processed. Justice George Odunga ordered authorities to ensure Miguna's safe passage and make sure he appeared in court in the afternoon.
The judge also ordered the interior minister, the immigration permanent secretary and the police chief to appear and explain why they disregarded court orders.
The airport confrontation came two weeks after a surprise meeting between opposition leader Odinga and Kenya's president as they announced a new initiative to heal the East African nation after months of sometimes deadly election turmoil.
Odinga had argued that Kenyatta lacked legitimacy because his initial August 8 re-election victory was nullified by the Supreme Court over "irregularities and illegalities." The repeat election had a low turnout as Odinga boycotted it, citing a lack of electoral reforms.
Miguna was at Odinga's side when he took an oath as the "people's president" at the mock inauguration. The government responded by arresting opposition politicians.