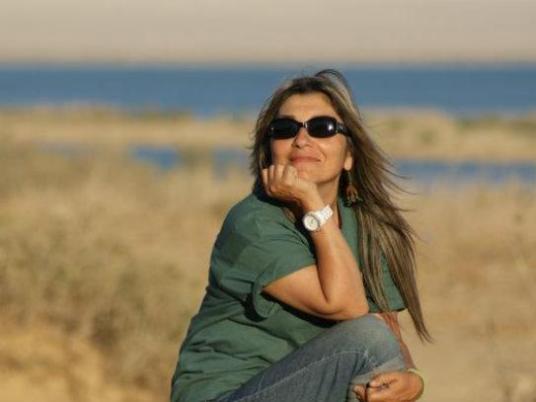 Kohar Garo is one of Egypt's leading environmental experts. Her unique philosophy of making science more realistic and interesting by teaching it outside the classrooms gave her the opportunity to launch many developmental projects with her students.
Apart from being a prominent professor of zoology at the Faculty of Science in Cairo University, she manages the Environmental Communication Centre, which is responsible for creating bridges between scientific researches and the current environmental problems, spreading ecological awareness between university students as well as training them.
Born in Cairo, Garo has Armenian origins. "I always consider the good side of the Armenian people is their ability to mix and mingle very well with the people and the culture that exist in any country they live in," she says.
Since her childhood, Garo has developed a deep passion for science and used to get very high marks in its different branches. In addition, she was fascinated by teaching and used to imagine herself as a teacher all the time. "After getting back from school, I used to put my dolls in rows as if they are in a classroom. On the blackboard, I used to explain all the lessons I got in the school to them. This was my way of studying."
After getting her bachelor's degree from the Faculty of Science at Cairo University, Garo prepared her master's and PhD degrees in the Navy American Medical Research Unit in Abbasseya.
Convinced that Egypt's main environmental problems emanate from an improper education system, coupled with ineffective waste management techniques and misuse of protected areas and reserves, Garo decided to take responsibility for improving these fields in her own capacity.
Garo has made efforts to classify some Nile organisms, focusing her research on the biodiversity of the Nile's freshwater bivalves in 2006. She set up the "Mashrua-al Mahar" project that same year in collaboration with the US National Science Foundation-funded MUSSEL project, which is an ongoing study aimed at the global revision of the classification of freshwater mussels. Mashrua al-Mahar's objective is to take a new look at the freshwater mussels of the Nile Basin, while involving students in malacological research (the branch of invertebrate zoology that deals with the study of mollusks).
Under her supervision, students collected a lot of data about the biodiversity of freshwater bivalves of the Nile which opened the door to many Egyptian and African researchers who want to study malacology..
Six years ago, Garo establishing two eco-friendly schools in Shakshuk, a village on the shores of Lake Qarun in Fayoum. "Although Fayoum is one of the richest governorates in terms of natural resources, its hygiene system is deplorable," she says. "On the last Friday of every month, we used to go to meet children in Shakshuk primary and preparatory schools and teach them how to deal with the environment and how to save its resources showing them the treasures they have and don't know about," she explains.
Instead of having theoretical lectures about environmental dangers, Garo found another way to attract children. She preferred to explain issues of global warming and deforestation in the form of games and puzzles. By showing them videos and taking them on school trips, the children developed a critical eye that enabled them judge environmentally destructive behaviors.
"Because Fayoum is known as a bird watching area, it was important to teach these children the key to birding. We gave them posters, information, taught them how to deal with tourists, but most importantly we provided them with an extra living source," she explains.
"It was also important to give them an ecological training about Lake Qarun that suffers from a lot of serious problems, particularly salinity and pollution. Thus, we taught the children how to measure the water's acidity, alkalinity and temperature and showed them how to differentiate between the good and the bad fish," Garo adds.
Although Garo believes that children can shape the future as they can spread the word and advise their parents, relatives and friends to stop their harmful behavior towards the environment, she also thinks that university students can make a big difference.
Pursuing her dream of having a "clean university," Dr. Garo organized the first eco-friendly festival for the students of Cairo University last month. "With the help of a group of biotechnology active students who care about their country and have readiness to improve it with their minds and hands, we could launch a successful awareness campaign in spite of the unstable conditions the country face nowadays," she says.
Raising awareness about waste management to university students was one of the festival's main goals. "Instead of telling students do that and don't do that, we started to show them what they can make out of sorting their garbage into organic and inorganic wastes," she says. "We used the inorganic waste materials such as plastic bottles, paper, and glasses to produce some artistic pieces, handicrafts and bookmarks that were shown in a gallery. We also had a project for producing biofuels, biogas, composts and bio fertilizers for gardens out of the organic wastes we collected but it's still waiting for funds," she adds.
Attempting to promote green tourism, Garo explains that one of her students had a dream of having a "protectorama," which is a panorama showing some beautiful photos for the 30 protected areas we have in Egypt with a description of the places and their importance. Adding this part to the festival gave the students an opportunity to know more about the far away protected areas they never got the chance to visit.
"During my lectures, I realized that most students don't know anything about the protected areas we have although Egypt contains very beautiful and important reserves that are full of biological and geological diversity. Wadi al-Hitan, for example, is a very rich protected area in Fayoum that contains the fossils of the oldest whales in the world that goes back to more than 40 million years," she says.
"More attention must be paid to those areas," she adds.
Moreover, Garo called to Cairo University students to exploit the available spaces in the campus to plant beautiful trees that can provide shelters, beautify the place and help absorb the high pollution rates the place suffers from.
"In addition, a group of my students proposed –– after visiting Wadi al-Gamal protected area –– to have a project for getting endemic medical plants and replanting them again in their natural habitats," she notes.
Believing that everyone is responsible for improving their country, Garo advises people to work hard within the coming days to save our environment, overcome the dangers and threats that face it and develop it for the next generations.
"We all love our country and it needs us to try our best to help it through our different fields of specialization," she concludes.
This article is part of Egypt Independent's "Environmentalist Portrait" series, in which we profile inspiring "green" individuals from various fields who make a difference in a country with a precious yet extremely vulnerable environment. The professionals we present in this series are working on a daily basis to safeguard Egypt's various ecosystems and environmental importance.