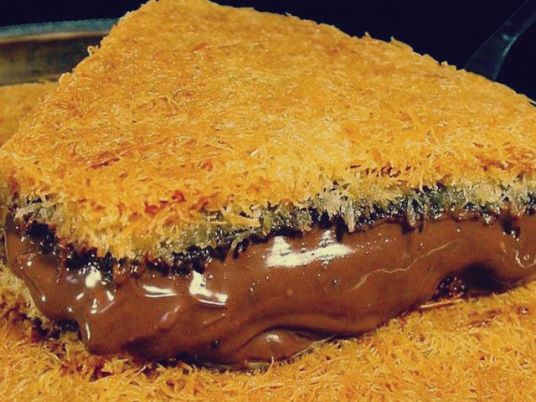 One of the most unforgettable scenes of Ramadan is the "Konafa" maker standing behind a simple furnace made of clay, swirling batter round and round on the drum-like surface of a huge round oven to cook the fine, noodle-shaped pastry.
Ramadan is never complete without a complement of Oriental pastries, soaked in sugary syrup.
In Egypt, Konafa and "Qatayef" are widely considered the most popular Ramadan sweets. Konafa, believed to have originated from the Levant, is traditionally bought in its plain, shredded pastry form and made into nest-shaped sweets at home.
Qatayef, a type of sweet dating from the Fatimid era, is like a dumpling in appearance and is traditionally stuffed with cream and an assortment of nuts.
But more recently, Ramadan sweets have begun to take on diffrent forms as innovative patisseries in Egypt blend Eastern flavors and textures with trends from the West. Today, Konafa and Qatayef can be found in various re-imagined forms — from the fruity to the chique.
Mango Konafa
Seven years ago, Ramadan fell in September – mango season in Egypt.
So sweet shops created a new kind of Konafa, combining the crunchy pastry with the mouth-watering smooth Mango. "Mango Konafa" typically consists of two layers of konafa sandwiched together with cream and chopped mango, topped with a final layer of fruit.
The price of a dish of Mango Konafa varies from LE 90 to LE200.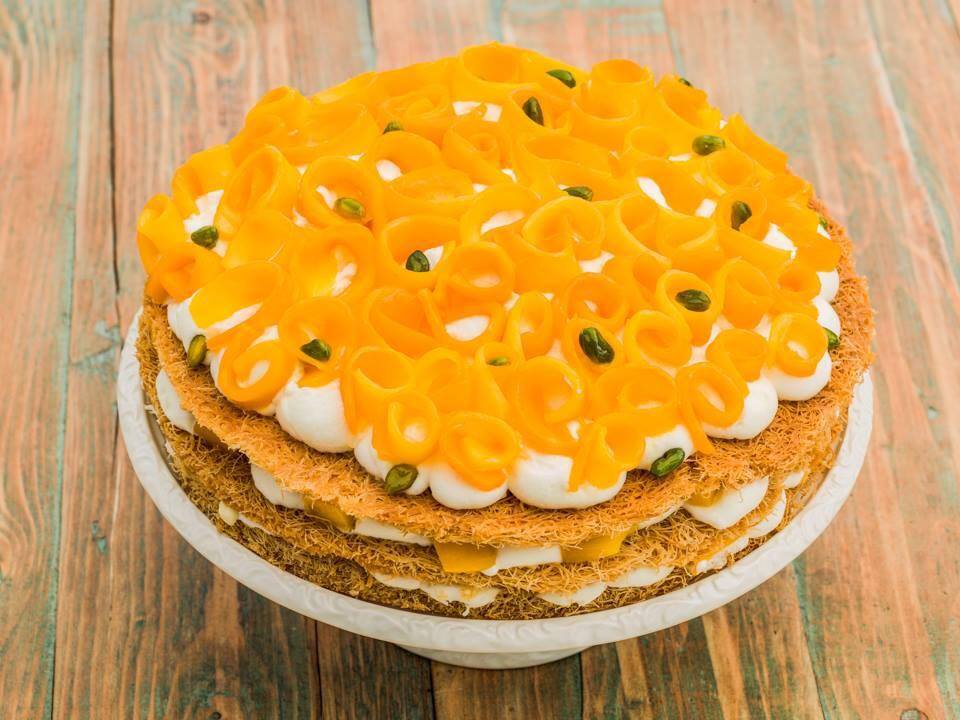 Chocolate Konafa and Qatayef
Responding to people's passion for chocolate, various patisseries have begun producing Konafa layered up with a lavish spreading of the hazelnut chocolate spread, Nutella, and sometimes topped with Maltesers or chunks of KitKat chocolate bars.
Qatayef have appeared with Nutella folded into them; a fondant chocolate center to the pastry parcel.
The price of chocolate Konafa varies from LE100 to LE250 per dish.
The Red Velvet Konafa
Following the trend for the deep red, layered "Red Velvet" sponge cake — the stamp of a trendy, cosmopolitan cafe in recent years — some switch-on patissiers have come up with the "Red Velvet Konafa".
This tiered masterpiece consists of a base layer of Konafa followed by a layer of red velvet sponge and topped with fresh whipped cream, for those wishing to celebrate Ramadan in the height of style.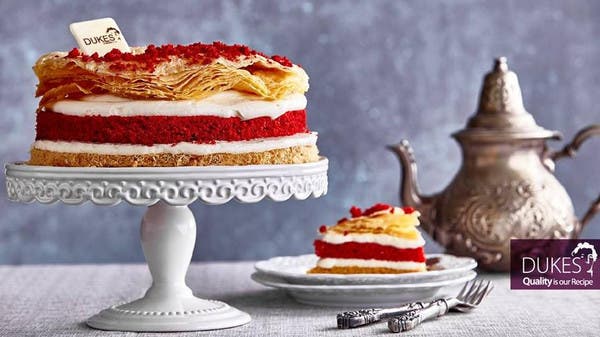 Konafa with red velvet and tulumba
Even the name of this exotic new type of Konafa is enough to bring on a sugar rush.
The extraordinary creation is made of Konafa crowned with syrupy, battered tulumba, (Balah al-Sham) dyed the color of red velvet cake and stuffed with Nutella.
Fans of any or all of the above should aim to give the dish a go this Ramadan.
Konafa Mango Ice-cream
This year, Konafa has even made an appearance as an ice-cream flavor. The "Konafa mango ice cream cake" consists of a layer of mango ice cream, followed by a layer of vanilla ice cream, sprinkled with chopped mango and crispy Konafa sticks.
Berries with Konafa
If you cannot bare the thought foregoing your beloved cheesecake to eat Ramadan sweets this year, fear not.
Roll up your sleeves to try the newly invented "Cheesecake Konafa" — the traditional pastry sandwiching together layers of cheesecake and blueberries, and sprinkled with nuts.
Crumbs bakery is selling the festive form of cheesecake at LE 240.
Marshmallow Konafa
Some patisseries have concocted a Konafa filled with cream and chocolate, and topped with Maltesers and marshmallows;
This can be bought for around LE 200.
Consumer reactions
Egypt Independent asked some members of the Egyptian public — with their refined palate for Oriental sweets — what they thought of the new varieties.
"I love the new types of Konafa as they have created a bigger choice and are much tastier than the traditional ones," said Amira Salim, (20) a medical student. "My favorite is the Mango Konafa."
Echoing Salem, journalist Nada Nader (24) said these various Ramadan creations are simply developments of the classic dessert recipes of Egypt, which is famous in the region for its desserts. The new types of Konafa are a wonderful blend of light Western desserts and sumptuous Oriental ones, she said.
"There is no problem in creating new trends when it comes to sweets, as long as the traditional ones are kept on the market. If it starts to erode the heritage of classic Egyptian sweets, then we have a issue," Nader said.
As another potential snag, Nader pointed out that the new Konafa creations are very expensive and not all the people can afford them.
Heba hashem, (24) a teaching assistant, does not think the new inventions are so appetizing.
"What has happened to Konafa and Qatayef? They are completely different. To start with, it was just the mango and Nutella versions, and they were good. But now the situation is getting worse, with strange new flavors cropping up and the Konafa itself tastes a little stale," Hashem said.
"This Ramadan, I've tried ice cream Konafa and Qatayef stuffed with M&Ms and both tasted horrible," she said, adding that the prices are unreasonably high given how easy the recipes are.
Housewife Hanan Mohammed (40) said that she does not like the new creations as they loose the original taste of Konafa and Qatayef.
"We used to eat Konafa stuffed with cream or nuts which was tasty and light, but the new flavors have ruined the taste of Oriental sweets," she said.
Although she, too, mentioned the steep prices, she admitted the new sweets have succeeded in getting the attention of those keen to try anything new.
It would seem the jury is out on the new Konafa and Qatayef. But what is for sure; they have certainly brought some festive pizzazz to Ramadan 2016.