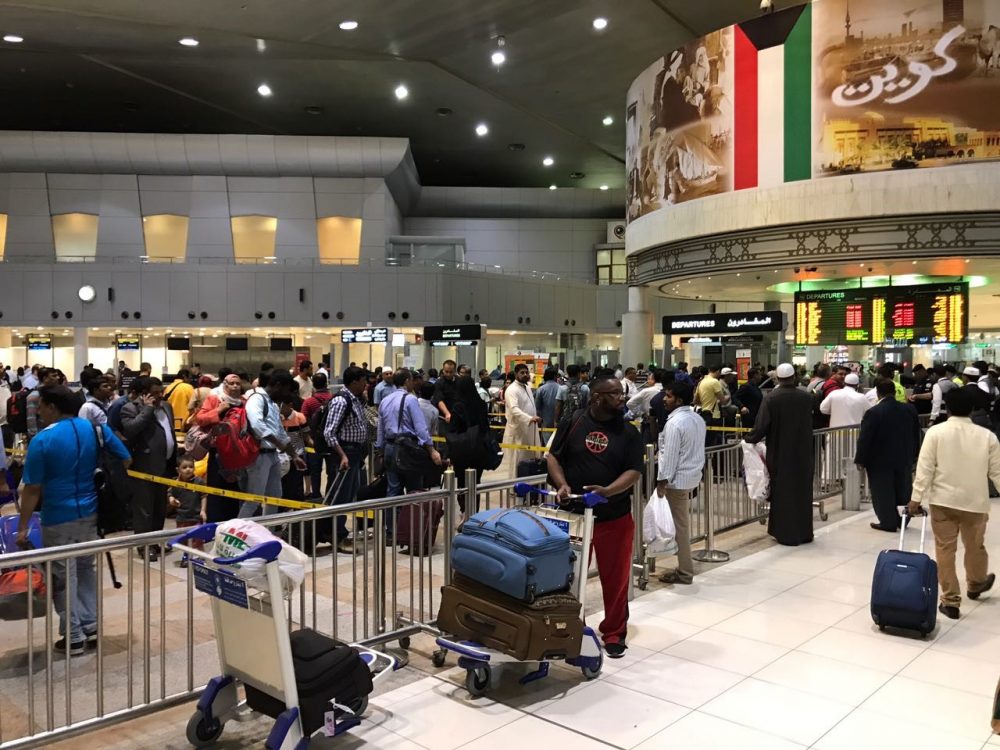 Egyptian Foreign Minister Sameh Shoukry on Sunday held a telephone conversation with his Kuwaiti counterpart, Sheikh Ahmed Nasser Al-Muhammad Al-Sabah, where they discussed the situations of the Egyptian and Kuwaiti communities while al-Sabah assured that Kuwait's decision to suspend flights to Egypt would come under review.
The two ministers agreed that the health ministries of both nations will communicate to decide measures on how to resume flights.
Ambassador Mohamed al-Oraby, Egypt's former Foreign Minister, told Al-Masry Al-Youm that relations between Egypt and Kuwait remain strong as ever.
He dismissed any allegations that a diplomatic crisis was brewing and affirmed that the Egyptian people share a special bond with their Kuwaiti counterparts.
Oraby noted that individual incidents, such as assault against Egyptian workers or calls to burn the Kuwaiti flag, are uncontrollable and do not express any popular sentiments.
"I have never heard before in Egypt about an invitation to burn the flag of an Arab country, even if an attack on an Egyptian occurred there… Such actions would create congestion between the two peoples and must be condemned, so that malicious media does not take advantage of them," he explained.
Oraby urged of the necessity to maintain relations via grassroots means such as exploiting Egypt's soft powers, its culture, heritage and directing its tourist attractions to the entire Arab world.
The deep impact of Kuwaiti-Egyptian relations has brought separate joint initiatives in the region such as the Arab Economic Summit in 2009, he added.
People in Kuwait continue to celebrate the Egyptian army's repulsion of Iraqi aggression during the invasion of Kuwait, the anniversary of which was on Sunday.
On Saturday, Kuwait announced it would suspend flights to a wide variety of countries, including Egypt, owning to pandemic concerns over 'high-risk' countries. EgyptAir followed suit by announcing it would suspend flights to Kuwait.
Egypt's Foreign Ministry has previously slammed posts on social media which it says seek to worsen relations between Egypt and Kuwait.
In a Friday statement the ministry accused these posts of coming from 'malicious entities' eager to attack the strong ties between both countries.
The Kuwaiti embassy in Cairo issued a statement on Friday calling on Egyptian authorities to take necessary measures to deter abusive practices against Kuwait.
According to the Kuwaiti News Agency, the embassy condemned video clips that were circulated on social media on Thursday, encouraging people to burn the flag of Kuwait.
The embassy stressed that, "This act, which represents grave and unacceptable abuse to the State of Kuwait and its national symbol, reflects negatively on the brotherly relations between the two countries."
"This shameful act has caused great dissatisfaction among both official and popular circles in the State of Kuwait and represents a wound in the conscience of its people," it added.
Minister of Immigration and Egyptian Expatriate Affairs Nabila Makram last week followed up with the Consul General of Egypt in Kuwait Hesham Asran regarding an incident where an Egyptian cashier in Kuwait was assaulted while at work.
The Kuwaiti citizen was promptly arrested, with police bringing a misdemeanor case to court, Asran said.
Assaults on Egyptian expatriates in some Gulf countries spur anger on social media from time to time.
In September 2019, three individuals broke into a mobile phone shop in Kuwait and beat two Egyptians working there.
Kuwait's Criminal Court in September 2018 sentenced a male citizen to 17 years in prison for brutal physical assault of an Egyptian expatriate during working hours at a motor repair shop in the industrial Shewaykh District.
Edited translation from Al-Masry Al-Youm