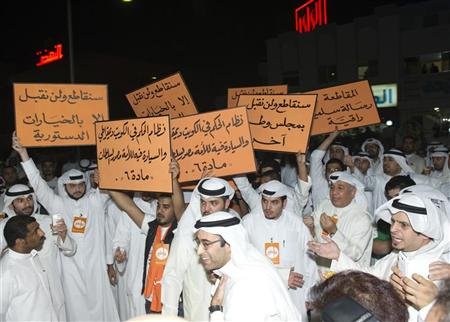 Kuwait's cabinet ministers submitted their resignations on Monday to the prime minister, a move that could pave the way for a cabinet reshuffle.
The resignation, which came a day before a possible no-confidence vote against Planning and Development Minister Rola Dashti, was seen as a way to avoid further friction with parliament.
Parliament speaker Marzouq al-Ghanim said he had received "a formal letter from the government that it will not attend Tuesday's parliament session and that the ministers have resigned", state news agency KUNA reported.
"I hope for the sake of Kuwait that the prime minister, Sheikh Jaber al-Mubarak al-Sabah, will succeed in reshuffling the government," he told a news conference.
Minister of Cabinet Affairs Mohammed al-Abdullah al-Sabah confirmed the resignation and said it was up to the emir, Sheikh Sabah al-Ahmed al-Sabah to "decide what is best to achieve the national interest".
Elections in July, the sixth parliamentary polls since 2006, brought in an assembly seen as more sympathetic to the cabinet than some of its predecessors.
The new parliament raised hopes that economic development projects would move forward in the Gulf Arab state, but its deputies soon fell out with some members of the government by submitting questioning requests, one of which could end in the no-confidence vote on Dashti.
The mainly Islamist and populist opposition boycotted the polls in protest against electoral reforms which cut the number of votes per citizen to one from four, a change which opposition politicians said would hurt their chances.
The resignation announcement came hours after Kuwait's top court ruled that this year's parliamentary election was, however, legal, rejecting suits that could have led to the chamber's dissolution and a new election.
Former members of parliament filed suit with the constitutional court to challenge the results on procedural grounds. Kuwait has the most open political system in the Gulf and its constitutional court is generally seen as independent.
Parliament has repeatedly been dissolved before the end of its term in recent years, either by the country's emir to avoid it questioning members of the ruling family, or by the constitutional court over procedural disputes.
The political instability has hurt the wealthy oil exporting country's economy, delaying business policy reforms and billions of dollars of spending on infrastructure projects.