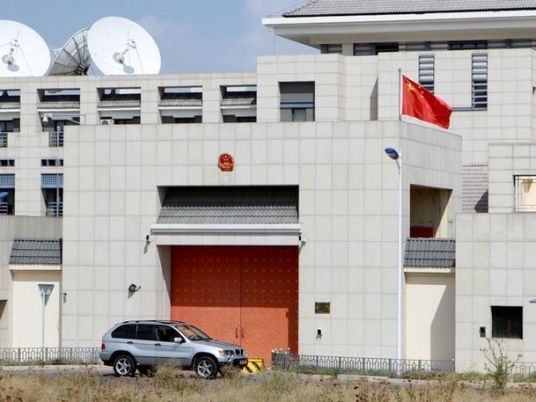 A suicide bomb attack on the Chinese embassy in the Kyrgyz capital last week was ordered by Uighur militants active in Syria and carried out by a member of the East Turkestan Islamic Movement, Kyrgyzstan's state security service said on Tuesday.
The suicide bomber, whose car rammed the gates of the embassy on Aug. 30, was an ethnic Uighur who held a Tajik passport in the name of Zoir Khalilov, the GKNB security service said in a statement.
Three embassy staff suffered minor injuries in the attack and were taken to hospital. China condemned the attack and urged Kyrgyz authorities to quickly investigate.
"The investigation established that the terrorist act was ordered by Uighur terrorist groups active in Syria and affiliated to the terrorist organization the Nusra Front whose emissaries … financed the terrorist action," the GKNB said.
Listed as a terrorist organization by the United States and Russia, the Nusra Front has renamed itself Jabhat Fatah al-Sham and said in July it had ended its relationship with al Qaeda.
Chinese Foreign Ministry spokeswoman Hua Chunying said on Wednesday the East Turkestan Islamic Movement was a recognized terrorist group that constitutes a serious threat to China, Syria, Central Asia and many other countries and regions.
"I want to stress that East Turkestan terrorist forces representing ETIM have planned and carried out many terrorist incidents targeting China inside and outside the country and committed bloody crimes," she told a daily news briefing in Beijing.
The attack on the Chinese embassy was coordinated through a native of Kyrgyzstan living in Turkey, the Kyrgyz secret service said.
It said an arrest warrant had been issued for another native of southern Kyrgyzstan, an explosives specialist trained in Syria and holder of a Tajik passport, who helped to prepare the attack but flew to Istanbul several hours before the explosion.
Five Kyrgyz citizens suspected of complicity in the bomb attack have been detained, the GKNB said. An international arrest warrant has been issued for two other Kyrgyz citizens living in Turkey, it said.
Apart from the ethnic Uighur suspected of having carried out the attack, all the others accused of ordering, financing and preparing it come from two southern Kyrgyz regions in the Ferghana Valley.
The fertile but overpopulated and largely impoverished valley, which Kyrgyzstan shares with Uzbekistan and Tajikistan, has become a source of radical Islamists in Central Asia, from where hundreds of young people have gone to fight for Islamic State and its allies in Syria.
Kyrgyzstan shares a remote, mountainous border with China's Xinjiang region where hundreds have died in violence in recent years, blamed by Beijing on Islamist militants.
Rights groups say the unrest there is more a reaction to repressive government policies, and experts have questioned whether ETIM exists as a cohesive militant group.
China denies there is any repression in Xinjiang.