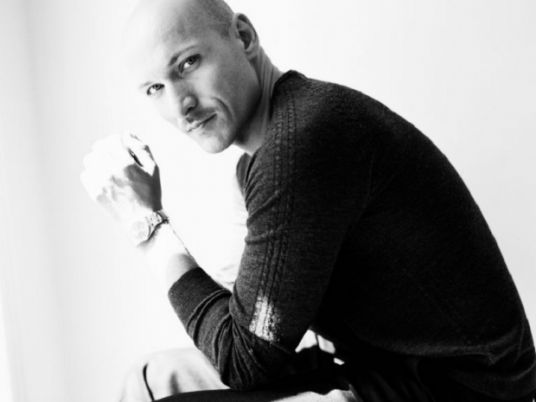 With the Cannes Film Festival in full swing since Wednesday, May 11, all eyes are on the red carpet as stars walk the steps of the Palais des Festivals each evening. While designer dresses usually grab all the attention, beauty looks also have a key role to play, as the perfect hair and makeup can make all the difference.
Relaxnews caught up with Karim Rahman, expert make-up artist at L'Oréal Paris, who is working his magic on a host of movie stars and ambassadors of the cosmetics brand at this year's Cannes Film Festival. He's keeping busy creating show-stopping beauty looks for red carpet appearances during the 12-day-long event.
After last year's "pin-up", is there a new beauty theme for this year's Cannes Film Festival?
Yes, there's always a theme for Cannes, which is notably chosen to champion the values and colours of the L'Oréal Paris brand. We have always had collections that were quite gold based, and this year's collection is called "Red Carpet", inspired not only by Cannes, but by all red carpets at all festivals, and by the world of cinema.
Are eyes or lips the focus this year?
Eyes take the lead for this 69th edition as the strong focus this year. Lips are interesting because they'll be a real conscious choice — a firm statement. Lips can be nude and natural or highly sophisticated. There are no rules. It's really a matter of taste and preference. But it's true that the emphasis will mainly be on eyes, with lots of mascara and quite a dark contrast with the blue-black of "Smokissime" (the Superliner eyeliner from the "Red Carpet" collection) which adds an air of mystery. The eyeshadow palette comes with shades of red and pink. It looks a bit girly at first, but, when applied in contrast to this year's strong, densely defined eyes, it makes a chic and highly refined combination.
How can we recreate this glamorous Cannes look?
You should keep skin natural, and not try to change your usual habits. Next, comes the choice between strong lips or eyes. For lips, pick a very dark and very matte red, and — above all — don't be shy. Be bold and confident and cut straight to the chase. Or, focus on eyes with lots of mascara on the top and bottom lashes and kohl lining the inner rims, sculpting the eye in a very intense way. Anyone who's really at ease can go for graphic eyeliner with a touch of colour on the eyelid, and there you have it. You really have to target the product, the texture and the applicator with which you're most at ease, then ramp it up.
What constraints do make-up artists working at the festival face?
Time. It goes quickly, sometimes too quickly, so quickly it can make your head spin. Now, for example, it's 10.30 a.m., the time of the interview, and I have already done make-up for Leïla Bekhti, Susan Sarandon and Julianne Moore. So time is a very real pressure and we often work against the clock at Cannes. But, in the end, it's pressure that's only felt in the heat of the moment. In retrospect, it's the magical moments that stay with you. We are lucky to work in very good conditions. Brand ambassadors come to a dedicated suite, so we don't have to run around, and everything is very well organised. Sometimes it's tense, but we always manage to do the job. The weather is another constraint, with the wind and the rain….
Can you share a story about working against the clock at Cannes?
It happens all the time. Last year, Karlie Kloss hurt herself getting into the car, so I went off into the cortege to join her. She cried a little after hurting herself so I had to redo her make-up in the car. Then, in the end, she got out looking magnificent and walked off up the steps, while me, I rode back with the car.
Apart from L'Oréal Paris brand ambassadors, do you know which stars you'll be making up this year?
There's a whole team of us, but me, I'm pretty much exclusive to L'Oréal Paris and the brand ambassadors. I don't have much time to spare, but I could potentially make up stars who ask me to, if I manage to fit them into my schedule. The problem is that I have several roles. I do workshops, I present collections to journalists, and I also work on masterclasses and tutorials, so, unfortunately, I rarely have the time to devote myself to other stars. But it can happen. We always manage to make room for Tilda Swinton when she comes to Cannes, just like Emma de Caunes. And there are plenty more. But, it's true that it's always difficult to organise.
Which star would you most like to make up?
I loved making up Susan Sarandon this morning. It was the first time and it was wonderful. I was scared, then, in the end, it went really well. She's a bright and intelligent woman. But the one person whose make-up I have always dreamed of doing is Monica Vitti. And I would have loved to work with David Bowie.
Speaking of men, do male stars also get made up before hitting Cannes?
Yes, of course, that happens. I don't often work with men, as I don't have the time, and I work mainly with brand ambassadors. But it doesn't take long. We moisturise then add a touch of make-up in five minutes. I don't like putting too much make-up on men, as I think they should look polished rather than made up. It's therefore always a very light look.
This is your seventh Cannes Film Festival. Doesn't the shine wear off after a while?
No, not at all. It's always an incredible experience. Of course, there's all the glitz and glamour, but I'm also a big movie fan, and it's great to be here talking about films with Susan Sarandon, like I was this morning. I don't get bored at all, and it's always nice to run into Martin Scorsese in the lift or cross Woody Allen on the stairs. You don't have time to get bored at Cannes. In fact, I actually find it quite exciting. If it was dull, I wouldn't be here.
If you could only make up one woman this year, who would it be?
It's funny you ask because I really regret not inviting my mother this year. And in that case, it would have been her. I thought about that all morning. Anyway, that's not possible, because she isn't here. But it's just a matter of time.