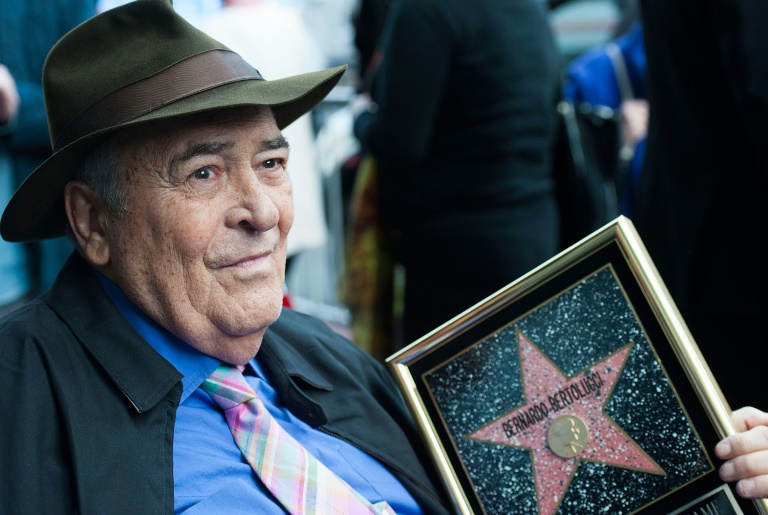 Italian film director Bernardo Bertolucci, whose films include "Last Tango In Paris" and "1900", died on Monday aged 77.
Considered one of the giants of world cinema, Bertolucci was the only Italian ever to win the Oscar for best film, snapping up the award in 1988 for "The Last Emperor."
He had gained notoriety for his 1972 erotic drama "Last Tango In Paris" starring Marlon Brando and Maria Schneider, which featured a controversial sex scene involving butter.
The filmmaker died at his home in Rome early on Monday, his press office Punto e Virgola said in an email.
He had been wheelchair-bound for several years because of back problems.
– Nine Oscars for one film –
Bertolucci's biographical masterpiece about the last Chinese emperor won a total of nine Oscars, all of those for which it was nominated.
He won an honorary Palme d'Or for his life's work at the 2011 Cannes Film Festival.
Former festival president Gilles Jacob said he was saddened by the death of "the last emperor of Italian cinema, the lord of all epics and all escapades."
"The party is over: it takes two to tango," Jacob told AFP.
Born in Parma, northeastern Italy, on March 16, 1941, Bertolucci made films that were often highly politicized, dealing with workers' struggles in "1900" or the fate of left-wingers in fascist Italy in "The Conformist".
A member of the Italian Communist party, he made the epic "1900" about the class struggle between Italian peasants and aristocrats spanning almost a century and starring Robert De Niro, Burt Lancaster and Gerard Depardieu.
A tearful Stefania Sandrelli, who starred in "The Conformist" and "1900", said "My last emperor has gone."
Bertolucci's father, a poet, history lecturer and cinema critic, gave him his first 16mm camera aged 15.
Bertolucci studied literature before turning to film, working as assistant director for Pier Paolo Pasolini on "Accattone" in 1961.
He co-wrote the 1968 spaghetti Western classic "Once Upon a Time in the West" along with Dario Argento and director Sergio Leone.
– Sex controversy –
Bertolucci frequently courted controversy, not just with his films.
This year he said that director Ridley Scott should be "ashamed" for replacing Kevin Spacey in a film after the actor was accused of sexual assaults against multiple men.
Bertolucci also helped organize a petition against the extradition of Roman Polanski to face rape charges in the United States in 2009.
He said however that he supported the #MeToo movement, which he praised for "bringing awareness to violence against women around the world".
– Butter –
In "Last Tango in Paris," Bertolucci acknowledged Schneider was not aware that Brando's character would use butter as a lubricant during one notorious scene with Schneider, who was 19 at the time.
"The only new thing was the idea of the butter. It was this, I learned many years later, that upset Maria, and not the violence that was in the scene and was envisaged in the script of the film.
"It is both consoling and distressing that anyone could be so naive to believe that what happens on the cinema screen actually takes place," he said of viewers.
Schneider, who suffered drug addiction and depression before her death in 2011, said four years earlier she had felt "a little raped" during the scene and was angry about it for years afterwards.
When asked in 2013 how he would like to be remembered, Bertolucci told AFP: "I don't care."
"I think my movies are there, people can see them," he said at a presentation of a 3D version of "The Last Emperor" to mark the 25th anniversary of its international release.
"And sometimes I laugh, thinking I will be remembered more as a talent scout of young girls than as a film director," he said.
Apart from Schneider, the list of stars he discovered includes Liv Tyler in 1996's "Stealing Beauty" and Eva Green, who made her screen debut in "The Dreamers" in 2003.
Director Roberto Benigni hailed a "fraternal, loving, intelligent, genial, unpredictable, rigorous and implacable friend, always telling us the truth, his cinema is one of the wonders of the 20th century."