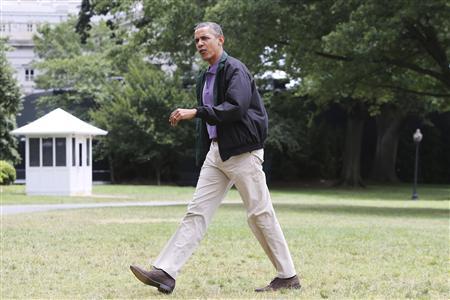 President Barack Obama says the U.S. must and will take action against Russia in response to cyber interference with the election.
Obama tells NPR News the U.S. will respond at a "time and place of our choosing." His comments are the clearest indication to date that whatever response the U.S. is planning has not yet occurred.
Obama says some of the response may be explicit and publicized and some of it may not.
He says he's spoken directly to Russian President Vladimir Putin about his feelings about the hacking.
___
7:10 p.m.
President-elect Donald Trump has chosen attorney David Friedman to serve as his U.S. ambassador to Israel.
Friedman advised Trump on U.S.-Israel affairs during the presidential campaign. Trump says in a statement released by his transition team that Friedman's "strong relationships in Israel will form the foundation of his diplomatic mission."
Friedman says in the statement that he looks forward to working "from the U.S. Embassy in Israel's eternal capital, Jerusalem."
Trump has pledged to move the U.S. embassy in Israel from its current location in Tel Aviv to Jerusalem, as Republicans have proposed for decades. The United Nations does not recognize Jerusalem as Israel's capital.
Friedman promises to "work tirelessly to strengthen the unbreakable bond between our two countries and advance the cause of peace within the region."
___
5 p.m.
Police in Washington say they have issued a permit for the Women's March on Washington, a demonstration planned for the day after the inauguration of President-elect Donald Trump.
The Metropolitan Police Department said Thursday it has issued a permit for the Jan. 21 march to start near the U.S. Capitol. Organizers have said they will march down Independence Avenue, and police say the march is scheduled to disperse at Constitution Avenue near the Washington Monument.
Police say that on their application, march organizers are estimating 200,000 participants.
Organizers initially hoped to rally at the Lincoln Memorial and other spaces, but those plans conflicted with other groups and inauguration events.
___
2:34 p.m.
President-elect Donald Trump is adding to his national security team.
Trump on Thursday announced the appointments of retired Lt. Gen. Keith Kellogg as chief of staff and Monica Crowley as senior director of strategic communications of the National Security Council.
Kellogg spent more than 35 years in the Army and, in 2003, was chief operations officer for the Coalition Provisional Authority in Iraq where he oversaw the efforts to form the new Iraqi military after it was disbanded.
Crowley is a foreign affairs and political analyst for the Fox News Channel.
___
1:03 p.m.
The White House is sharply criticizing President-elect Donald Trump for his response to allegations of Russian interference in the U.S. election.
White House spokesman Josh Earnest says Trump should stop attacking the U.S. intelligence community. He says instead, Trump should be supporting the investigation into what occurred that President Barack Obama has ordered.
Trump's transition team has complained that the White House has suggested Trump knew during the campaign that Russia was trying to interfere. But Earnest says its "obvious" Trump knew and that it's a fact.
He's also disputing Trump's claim that he was joking when he encouraged Russia to find Hillary Clinton's emails. Earnest says nobody in the White House, Congress or the intelligence community found it "funny" that a U.S. adversary was trying to "destabilize our democracy."
___
12:50 p.m.
A spokesman for Idaho Gov. C.L. "Butch" Otter says he is being considered as a possible candidate for agriculture secretary.
Jon Hanian confirmed Thursday the Republican governor is currently being vetted by President-elect Donald Trump's transition team. Hanian added that he did not have any further information about other candidates or a time-frame about when a decision would be made.
Otter, 74, served as Trump's honorary Idaho campaign chair during the last few months leading up to the election after originally endorsing GOP Ohio Gov. John Kasich.
If selected, Otter would be the first agriculture secretary to be chosen from Idaho.
Otter was elected to a third term as governor in 2014 and has previously said that he would not run for a fourth term. He was lieutenant governor for 14 years before being elected to Congress in 2000.
___
12:20 p.m.
Senate Minority Leader Harry Reid says he believes Vladimir Putin was personally involved in efforts to intrude into the presidential election and help Donald Trump win the White House.
The Nevada Democrat said Thursday "the answer is clearly yes" when asked about the Russian president's involvement. He adds that because Putin is a former KGB chief, his alleged actions should surprise no one.
Reid also criticized FBI Director James Comey for doing "nothing" to prevent Russia from hacking Democratic campaign documents while focusing on Hillary Clinton's private email server.
Reid says Comey, who used to be a registered Republican, "became so partisan" that he should head the Republican National Committee.
Reid is retiring at the end of the year. He spoke at a Capitol event honoring a conservation project in Nevada.
This item has been corrected to reflect that Comey is no longer a registered Republican.
___
10:22 a.m.
President-elect Donald Trump has officially chosen Montana Rep. Ryan Zinke to serve as his interior secretary.
Zinke was an early supporter of Trump's and publicly sought a Cabinet post when Trump visited Montana in May.
Trump's decision to tap Zinke for interior upends Senate Republican plans of recruiting the congressman to challenge two-term Democratic Sen. Jon Tester in 2018.
As Montana's at-large representative, Zinke has proven he can win statewide, and the GOP considered Tester vulnerable in the midterms.
As with several other Trump Cabinet nominees, Zinke has advocated for increased energy drilling and mining on public lands and expressed skepticism about the urgency of climate change.
___
10:06 a.m.
Senate Democrats have unveiled legislation to require President-elect Donald Trump to sell his businesses and put all of his assets in a blind trust.
The legislation comes as Trump is grappling over how to distance himself from potential conflicts of interest between his sprawling business empire and the actions he will take as president.
Among the lead sponsors of the bill is Massachusetts Sen. Elizabeth Warren, who said the public needs assurances that Trump will do "what's best for the country — not using his office to do what's best for himself and his businesses."
The announcement came on the day Trump had been scheduled to disclose the steps he will take to ameliorate conflicts of interest. His transition aides now say the press conference will take place next month.
___
7:45 a.m.
A top adviser to Donald Trump says his daughter, Ivanka, and her husband, Jared Kushner, would be the most likely family members to have official staff roles.
Kellyanne Conway told MSNBC Thursday that any of the president-elect's adult children who work in the administration would separate from their father's business empire and leave "no ambiguity" that could expose the family to conflicts of interest.
She added that Ivanka, her husband and any Trump siblings who choose to work in the White House would make big financial "sacrifices" to do so.
Trump's transition aides say lawyers are working to untangle Trump and his family from their business empire after criticism that failing to do anything short of creating a blind trust would expose them to conflict of interest investigations and lawsuits.
___
6:32 a.m.
Russian Prime Minister Dmitry Medvedev has lauded nominees for the incoming Trump administration as people with no "anti-Russian stereotypes."
Medvedev said in a televised interview on Thursday that Moscow is glad Exxon Mobil CEO Rex Tillerson has been nominated for secretary of state, describing him as someone with "pragmatic thinking." Medvedev said President-elect Donald Trump's recent appointments show that he hires people who "don't have ingrained anti-Russian stereotypes, or any stereotypes."
The Kremlin has cheered Trump's victory although some top Russian officials have recently said they had no illusions and were not expecting relations between Russia and the U.S., which were battered after Russia's annexation of Crimea in 2014, to improve overnight.