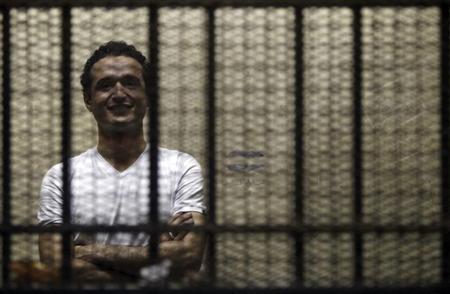 Human rights lawyer Kahled Ali said the health condition of jailed political activist Ahmed Doma has deteriorated sharply after he refused to take his medication, in an escalation to what he had announced 21 days ago that he was going on hunger strike and would only drink water.
Following a visit to Doma and activists Ahmed Maher and Mohamed Adel in jail, Ali said on Tuesday that Doma's deteriorating health condition may lead to his death.
He condemned the intransigence of the prison authorities for discarding a recommendation of a doctor of the National Council for Human Rights to move Doma to the hospital.
He demanded the Interior Ministry to take immediate action and submitted a request to the prison warden confirming that the lawyers would cover the accommodation expenses of the hospital.
In December, Doma, along with the founder of the 6 April Youth movement Ahmed Maher and movement member Mohamed Adel were sentenced to three years in prison over clashes outside the Cabinet building that took place in November 2011.
Edited translation from Al-Masry Al-Youm