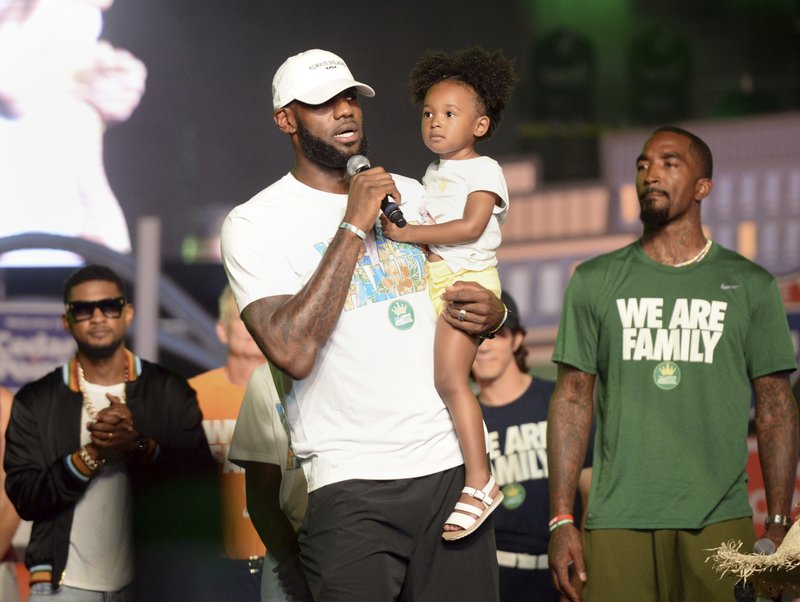 Along with getting good grades and listening to their parents, LeBron James has encouraged kids in his foundation's educational program to stand up for their beliefs.
On Tuesday night, the superstar gave a lesson in how it's done.
Concluding a day of fun and games at an amusement park, James turned serious when speaking about the recent violence and tragedy in Charlottesville. James also took a pointed swipe at President Donald Trump, calling him the "so-called president."
While holding his young daughter, Zhuri, James stood on stage before an excited crowd of students, parents and others connected to the LeBron James Family Foundation and delivered his emotional message.
"I know there's a lot of tragic things happening in Charlottesville," James said to cap the annual event at Cedar Point amusement park. "I have this platform and I'm somebody that has a voice of command, and the only way for us to get better as a society and for us to get better as people is love. And that's the only way we're going to be able to conquer something as one."
Then, James, who endorsed Hillary Clinton last year and introduced her at a rally in Cleveland just two days before the election, went at Trump, whom he has criticized in the past.
"It's not about the guy that's the so-called president of the United States, or whatever the case. It's not about a teacher that you don't feel like cares about what's going on with you every day. It's not about people that you just don't feel like want to give the best energy and effort to you. It's about us. It's about us looking in the mirror. Kids all the way up to the adults. All of us looking in the mirror and saying, 'What can we do better to help change?' And if we can all do that and give 110 percent, then that's all you can ask for.
"So, shout-out to the innocent people in Charlottesville and shout-out to everybody across the world that just want to be great and just want to love. Thank you, and I love you all."
James' remarks ended a star-studded show that included pop stars Jordin Sparks and Usher as well as his Cavaliers' teammate J.R. Smith. They stood alongside him for his message along with his sons, Bronny and Bryce.
There had been a celebratory vibe all day, as James hosted nearly 7,000 of his foundation's students and their families, who strolled around the immense park best known for its roller-coasters wearing light blue T-shirts with "We Are Family" across the fronts.
It was as if James' hometown of Akron had all gone out together for the day, and that was exactly the point of the event, to celebrate the successes of kids committed to making more of their lives.
Now in its sixth year, James' foundation has brought hope to children who might not have any otherwise. If the students meet certain criteria, stay in the program and graduate, they can receive full tuition to the University of Akron.
"That means everything," Latasha McCullough said as she sat with her husband, Arthur, and children Arlissa and Arsea while waiting for James to appear on stage.
The McCulloughs have been directly impacted by James and his work, and they're forever grateful.
"He doesn't have to do anything," Latasha said. "All he is responsible for are his kids, his family, go to work and provide for his, but he does it for his city. He does it for everybody, everybody's kids. All the things he didn't have growing up, he's giving it to our kids with no problem and he's not being selfish. It's constant and consistent, you earn what you get."
James has grown his foundation beyond its initial goals of tackling the city's drop-out rate. Next year, the charity will open the I Promise School, designed to help students who have already fallen behind and need extra attention.
Michelle Campbell, executive director of the LeBron James Family Foundation, is awed by what the group has accomplished.
James has led the way.
"It's never enough with him," she said. "He is always pushing, just like on the basketball court, pushing and pushing. I could have never imagined what we have done and are doing, but with his belief and what he wants to do and his drive and his ability to put all these partners around us. We can't fail.
"It started out with working with kids and changing a child, then OK, we got the family involved and we learned that some didn't have their high school diplomas, so we broke down those barriers. Now he's changing a whole community. He's uplifting this whole community, on his back."