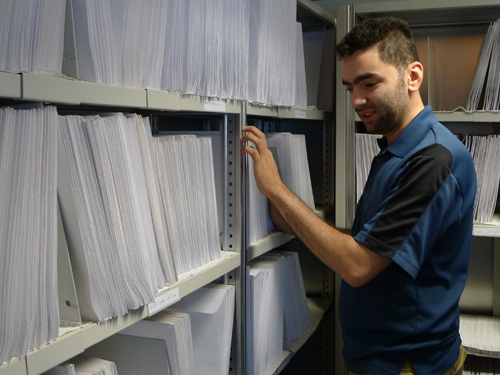 In the mountainous Lebanese village of Qurnet al-Hamra is a musicians' haven: a state-of-the-art studio specialized in digitizing, researching and archiving forgotten treasures of Arab music. As for Arab music lovers who can not make it all the way up there, a free online radio service will soon be available.
The Foundation of Arab Music Archiving and Research (AMAR) was an idea, and dream, of Egyptian musicologist Mustafa Said for many years. It only began materializing when he met Lebanese businessman Kamal Kassar, who shared his interest in Arab music from the turn of the 20th century, a period known as the second Nahda (Renaissance). After numerous discussions and planning sessions, AMAR — half-research institution, half-academy — finally opened its doors in August 2009.
"Music [of the Nahda period] is very different from everything I had ever listened to before," says Said, founding member and director of the project, and distinct from all that followed: what is now regarded and taught as the classics of Arab music paved the way for Arab pop music.
"People think that [Arab] music started with the innovative [Mohamed] Abdel Wahab and the iconic Om Kalthoum, and if they happen to go back a bit further, then there is Sayyed Darwish. Before that, they know nothing," he explains. Whereas pop and contemporary music exist side by side with classical music in most countries of the world from India, Iran and Turkey to European cultural capitals, most music academies teach Arab music as starting shortly before the 1950s.
This short popular history of Arab music bedazzled Said for a long time. In his teen years, he would sit in his bedroom listening to late night shows on the Egyptian Radio Service and record them. Said emphasizes that they were "the very late night shows," those that were aired too late for most people to actually listen to. It was through this that he learnt about long-forgotten singers and musicians like Dawood Hosni (1870-1930), and the popular singer Fatheya Ahmed (1898-1975). The sound of the recordings he listened to was mostly poor. Still, the music was fascinating to him for many reasons.
For a start, it had a very different system from all that followed, one that was originally rooted, in terms of composition, in religious inshad (religious chanting), but often with profane themes. It was passed on from one musician and composer to the next, and with every transfer, there was improvisation and experimentation. The developments were, however, mostly inspired from within the musical heritage of the region. What followed from the 1940s onwards, Said explains, was the domination of a western-oriented approach to musical development, through the importing and fusing of regional music with western sounds.
But AMAR does not seek to discredit musical fusion, nor is it inspired by a sense of Pan-Arabism. Instead, it aims to provide another approach to developing Arab music, not so much an alternative but an option that can exist side-by-side with fusion.
"Music is primarily a language," says Said. "In terms of our musical system, there are several styles and languages from surrounding regions that have not influenced us, although they are much closer to our own. Our idea is to open up a space to develop our music from the inside.
In the 19th century, people listened to both Sayyed Darwish and Aboul Ela Mohamed although their approaches were very different. Now, we only have one approach because the past has been dismissed and destroyed," he says. "When Arab hip-hop artists, for instance, listen to music from this period, they are fascinated, and ask, 'why haven't we heard this before?'."
Much of the second Nahda's music was, in fact, composed, performed and recorded in Cairo. The Egyptian capital was a hub for phonograph record production until the 1930s; when the National Radio Service was launched in May 1934, it was the first and most important in the region. Still, finding musical recordings from this period is very difficult. Said collects them from private collections, old houses, used record stores, antique sellers and, sadly, junk yards.
He believes that this period's music has been systematically destroyed: "The period that came after the military coups of the 1950s and 1960s destroyed it as the heritage of a 'bygone era'." He recounts how he would go to the archives of the state radio service to find that they had recorded a football game over an old concert. The same can be said for Syrian and Lebanese radio.
So AMAR resorts to alternative approaches in its research. Said has been contacting people who recorded programs and concerts aired on the radio back in the 1940s to make digital copies of their records. This is complemented with relevant manuscripts, books, catalogues and musicians' contracts that provide historical context to the scene at the time. From the catalogues, researchers at AMAR learn when the musical pieces were recorded and released; by listening to the recordings, they identify the musicians and singers from their style, carefully connecting pieces of information to offer a musical historiography.
Their purpose, however, is not to create a museum for musicians. "Heritage is not a holy book, [people] do have the right to develop and build on it," says Said. He describes the way people have been dealing with Arab music as "musical Salafism," treating it as heritage that should not be tampered with. Consequently, musicians and composers looking for inspiration are alienated. The foundation wants to collect and digitize the shared musical heritage produced at the turn of the 20th century, make it accessible for free, and create discussion forums around it.
So far, the foundation has been hosting workshops and opening up its space for researchers. But it also wants to engage the wider public. It released a book and 10 records for the centenary of Egyptian singer Sheikh Youssef al-Manialawi (1847-1911); now they are working on a similar project for the humorous yet controversial Egyptian singer Abdel Hay Hilmy (1857-1912), as well as programming of the online radio service. Stay tuned.
This piece was originally published in Egypt Independent's weekly print edition.