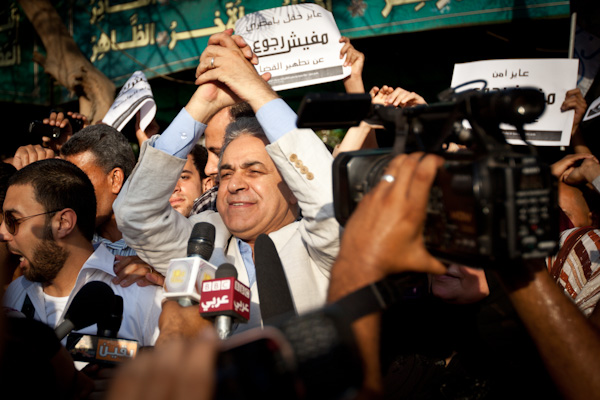 Political party leaders discussed Tuesday the possibility of coordinating their stances on the Constituent Assembly, accusing the Islamist majority of controlling the drafting of a new constitution.
The meeting brought together leaders from the Popular Current and Socialist Popular alliances and the Constitution, Ghad al-Thawra, Wafd and Egyptian Social Democratic parties.
Before the meeting, Popular Current founder and former presidential candidate Hamdeen Sabbahi said "it is unacceptable" to have one group dominate the process of writing the country's new constitution.
The meeting was held in former Manpower and Immigration Minister Ahmed Hassan al-Borai's villa, where political leaders including Constitution Party founder Mohamed ElBaradei, former presidential candidate Amr Moussa, Wafd Party chief Al-Sayed al-Badawy, Ghad al-Thawra Party chief Ayman Nour, Socialist Popular Alliance member Abdel Ghaffar Shokr and Egyptian Social Democratic Party member Ziad Bahaa Eddin were present, according to Al-Masry Al-Youm.
ElBaradei criticized President Mohamed Morsy, saying he had failed to fulfill his pledge to form a new Constituent Assembly representative of political powers from across the spectrum. He advocated that meeting participants push Morsy and the Muslim Brotherhood to form a new assembly.
The constitution-drafting body has already been disbanded once for its lack of diversity, but the second iteration of the assembly is also largely dominated by Islamists.
ElBaradei also warned against changing the phrasing of Article 2 to allow for a stricter and more literal application of Islamic law.
"It is impossible for us to accept the implementation Islamic Sharia rulings instead of its principles, as was the case in the 1971 Constitution," he said, describing recent political developments as farcical.
"The way the group [the Brotherhood] is managing the affairs of the country goes against everyone's attempts to transform Egypt into an institution-based state," he said, urging attendees to issue a joint statement against the Brotherhood and Morsy.
State television's website reported that ElBaradei and Sabbahi would hold additional meetings, but gave no specific details about the outcome of the Tuesday talks.
In response to the talks, Salafi leader and former presidential hopeful Hazem Salah Abu Ismail called on members of the Constituent Assembly to withdraw in preparation for the election of a new assembly. In an interview with ONTV Tuesday, he said, "Since the constitution-writing assembly does not appeal to the political elite, I call for dissolving it and having its members elected directly by the people … Islamists will win a majority in it; that will hush up those who cast aspersions on its work."