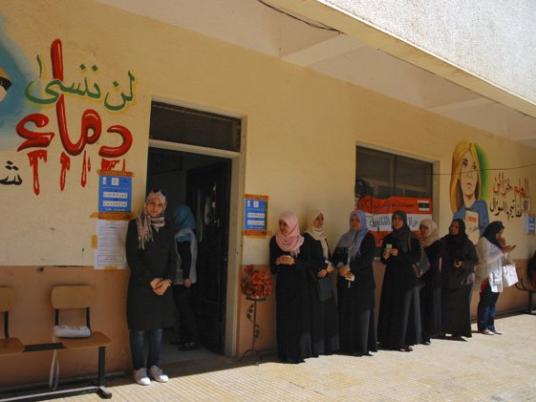 TRIPOLI — A liberal alliance led by a former Libyan rebel prime minister said Sunday the party's unofficial preliminary results put it in the lead in the country's landmark parliamentary elections, the first since the ouster of dictator Muammar Qadhafi.
Faisal Krekshi, secretary general of the Alliance of National Forces led by Mahmoud Jibril, said the results were based on reports by party representatives at ballot counting centers across the vast desert nation. He provided no details, and the head of the election commission refused to confirm Krekshi's claims.
"We are all waiting and we have nothing to suggest that one party is ahead of others," election commission chief Nouri al-Abar told reporters. He also refused to set a date for announcing the full official results.
Libyans turned out en masse Saturday to cast their ballots for the 200-seat parliament. Eighty seats are set aside for party lists, while the remaining 120 are for individual independent candidates.
Officials from two other parties — the Muslim Brotherhood's Justice and Construction Party and the Islamist Al-Watan — said Jibril's alliance was the biggest winner in the race for the 80 party seats. They based their statements on their own party representatives at polling centers. They did not provide a breakdown.
Their claims could not be verified.
With the majority of parliament's seats dedicated to individual candidates, even if Jibril's Alliance of National Forces were to claim the largest share of the party seats it is not guaranteed of being the dominant force in the legislature.
Jibril was a senior official and economist under Qadhafi's regime until he changed sides and joined the rebels after the uprising broke out, serving as the rebels' interim prime minister for almost eight months. Jibril himself could not run on the ballot because election laws prevent members of the interim National Transitional Council from running, but he serves as the leader of the coalition that brings together some 40 liberal parties.
The vote capped a chaotic transition that has exposed major fault lines in the country, ranging from the east-west divide to efforts by Islamists to assert power. It was a key milestone after a bitter civil war that ended Qadhafi's four-decade rule, and was the first time Libyans have voted for a parliament since 1964, five years before Qadhafi's military coup that toppled the monarchy.
But the desert nation of 6 million people has fallen into turmoil since Qadhafi was killed by rebel forces in his home city of Sirte in late October. Armed militias operate independently, refusing to be brought under the umbrella of a national army, and deepening regional and tribal divisions often devolve into bouts of violence.
Many people in eastern Libya resent what they perceive as a power grab by their rivals in the west. Some easterners boycotted Saturday's election in protest, and there was a spate of attacks on polling centers in the east that, in some cases, halted voting in some areas.
Al-Abar, the election commission chief, said preliminary figures showed 1.7 million of nearly 2.9 million eligible voters, or about 63 percent, cast their ballots Saturday. He also said that voters who were not able to cast their ballots for security reason were allowed to vote on Sunday.
President Barack Obama congratulated Libyans on the vote, calling it "another milestone on their extraordinary transition to democracy."
Across Libya, the vote was characterized by scenes of joy and a sense of triumph by Libyans emerging from more than four decades of repressive one-man rule under Qadhafi.
They stayed out celebrating on the streets well after polls closed at 8 pm Fireworks lit the Tripoli sky, motorists honked their horns and stores stayed open well past midnight.
There were also shouts of "Libya is free" by rebel fighters deployed throughout the capital in anticipation of any violence. They flashed fingers stained by the purple ink to show they had voted.