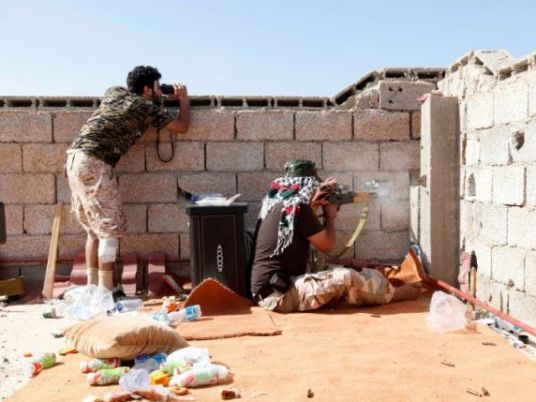 Crouching on a rooftop, Libyan truck driver Riyad Swaid takes aim through breeze blocks at positions held by Islamic State fighters a few hundred meters away in the city of Sirte.
He and his fellow gunmen, aligned with Libya's unity government, are battling street-to-street for the strategically important coastal city on the edge the Western war against Islamic State.
Nearly two months into the battle, the militant group has lost control of Sirte's harbor and some of the residential areas near the center of what was late Libyan leader Muammar Gaddafi's hometown.
The sides exchange sniper rounds and mortar shells, at times only 200 meters apart, and fight house-by-house.
"This war was forced on us. It was a war we could not avoid, so many lost their lives to these people," Swaid said.
Islamic State started expanding into Libya in 2014 as political chaos deepened and conflict worsened, three years after the civil war that ousted Gaddafi.
Sirte, 450 km east of Tripoli, became Islamic State's largest outpost beyond its Iraq and Syria territory. It was taken last year by militants who profited from Libya's war among rival factions to gain control of territory and impose their hardline vision on the city.
Losing Sirte would be a major setback for the group and a big blow to morale as it also struggles to hold ground in Iraq, where it has lost the city of Falluja and other territory to forces backed by US-led air strikes.
Snipers
Islamic State are being squeezed by a tightening ring of separate fronts around a 5-km central area where earthen berms crisscross roads, cutting off escape routes. Tanks and howitzers lob occasional shells into areas held by Islamic State.
Many of those fighting Islamic State are from the nearby port city of Misrata.
Wearing mixed camouflage uniforms and jeans, some in flip-flops and others in flak jackets, they are trying to clear out snipers and landmines and booby-traps strapped to corpses in the street and in houses. They have positioned gun-mounted vehicles behind earthen roadblocks and fire aging anti-tank canons from villa rooftops.
The Misratan Commanders are reluctant to advance rapidly because of the risk of high casualties. Already, more than 200 fighters have been killed in the battle for Sirte.
A week ago, more than 40 Misrata troops were killed in a surge on one front. At a field hospital outside Sirte, doctors say most of the recent victims among troops were killed by gunshot wounds to the head and upper body.
A Russian-made tank spray-painted with the name of its Misrata brigade overlooks Sirte from a hill, occasionally blasting a shell into Islamic State-held territory.
After another miss, the driver adjusts the barrel and jumps out to pull on a long cord to fire from outside the tank — staying inside is too risky with old, unstable ammunition.
"We've been trying to hit snipers in the top of a building," said Hamsa, a commander in the military engineering unit. "It's just trial and error, it's a simple way."
They lack night-vision equipment, helmets and flak jackets to reduce the casualties from snipers. Most feel let down by their Western partners and by the Tripoli government in the fight against Islamic State.
"Everyone knows we are fighting here with basic weapons, it was a lie that they said they would help us," said Mustafa, a local commander on a frontline in Sirte's 700 district. "But we can finish this war ourselves."
Western powers say they are ready for Prime Minister Fayaz Seraj's government to request assistance. But the UN-backed unity government is struggling to exert its influence, and political infighting delays decisions.
A specific request for exemptions to a UN arms embargo is yet to emerge, and a broader proposal for Western training programs is still in the planning stages.
Big prize
Western officials earlier this year estimated that 6,000 militant fighters had massed in Sirte, many of them foreign recruits from Tunisia and sub-Saharan Africa, increasing concerns about Islamic State expansion into North Africa.
Misratan forces said that figure was too high, and put it closer to 2,000. They say as few as 600 fighters may now be left inside Sirte, including some foreign recruits.
Misratan fighters battled side by side with other rebel brigades against Gaddafi in their 2011 uprising. They are now just one force in the complex network of military and political rivalries among Libya's various factions vying for power.
Sirte would be a big prize for the Misratan forces, who back the fragile UN-backed government of unity based in the capital Tripoli. But it could embolden them against rival forces led by a former Gaddafi official, General Khalifa Haftar.
Islamic State slowly established their hold on Sirte, carrying out punishments, crucifixions, public beheadings and floggings for those who resisted.
Militants took over city institutions and banks, forced merchants and shopkeepers to pay a tax, and set up an Islamic court. Local residents who fled say barbers were banned from shaving off beards and they stopped smoking in cafes.
The Zafran roundabout where crucifixions were carried out now has an empty frame where Islamic State's black flag was displayed. A spray-painted logo remains on merchant stores showing those who paid tax.
Misrata military commanders say the militant group is now holed up in the area around the Ouagadougou conference hall built by Gaddafi to host African summits, and around a nearby hospital, though some leaders may have fled to the south.
"We know this is not just a fight against the group in Sirte. After Sirte other pockets will appear," Mohamed Gnaidy, intelligence chief for the Misrata forces. "We know they could stage suicide attacks, bombs on other cities."