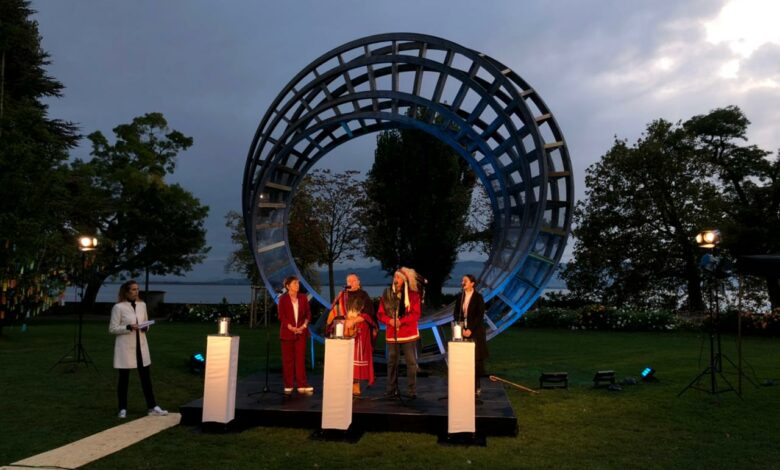 A wooden design consisting of circular rings surrounded by charming nature from all sides, green planted mountains that are embraced by clouds from all sides and the clear blue color emanating from the lake.
These natural paintings are what distinguishes the German city of Lindau, located between Austria, Germany and Switzerland, overlooking Lake Constance in Bundsee.
The city hosts the Religions for Peace Conference, which kicked off on Tuesday, with the attendance of 130 representatives of all religions and beliefs in the world.
With the participation of 1,700 people by default, due to the spread of the Coronavirus in all countries of the world.
The conference celebrated the peace march Tuesday evening, which started from the conference headquarters and headed to one of the parks where the ring of Peace is located. It is the slogan that symbolizes dialogue between different religions and acceptance of the other.
The circular design was created by the German artist gilbert Barman, who built it at a height of 7.5 meters on Mobius tape format. The ring consists of 36 pieces of wood coming from all continents.
Dr. Wolfgang Scheurer, head of the ring of peace Organization, says that choosing the symbol of the ring is because the circular design is present in all beliefs.
We see the shapes of domes in different religions, for example, the ring is present in many religions and beliefs, he said adding that the ring is a symbol of loyalty, honesty and fidelity.
The statue was created in 2019 and was placed on the shores of Lake Constance. It witnesses the opening of all international forums in Lindau and will be permanently present as a symbol of peace.