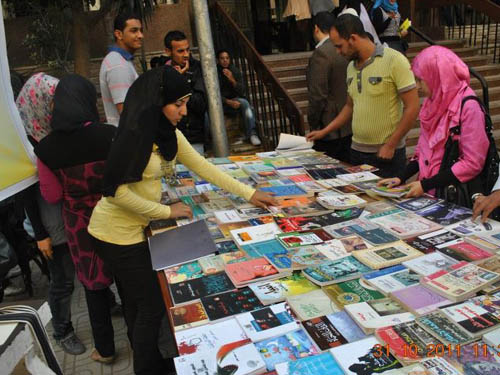 The French magazine Books, publishing news and offers on newly issued books, published in January 2015 a list of the bestselling books in Egypt.
The list was based on the sales of a bookstore in one of the largest malls in Egypt in October 2014.
It seems that the whereabouts of this library is very vital and frequented by different segments of readers, so the report's editor Hala Qadamny depended on the library as a reliable source which provided real indicators for most read books.
In light of the absence of real distribution statistics for books, the popularity of a book remains in question.
Also, if we depend on the popularity of a certain library to set a list of the bestsellers in Egypt, definitely there would be different lists.
The list published by the French magazine, which included nine novels varied in their content between themes of love, horror, history, psychology and metaphysical powers, in addition to one one non-fiction book by late writer Ahmed Bahgat.
The list included:
1- Hibta, Mohamed Sadeq, al-Rowaq publishing and distribution house.
2- Al-Feil al-Azraq (The Blue Elephant), Ahmed Mourad, al-Shorouk publishing house.
3- 1919, Ahmed Mourad, al-Shorouk publishing house.
4- Al-Mamsous, Mohamed Esmat, Noun publishing house.
5- Taha al-Gharib, Mohamed Sadeq, Dar al-Kotob.
6- The Forty-love Rules, Elive Shafak, Tawa publishing house.
7- Sharaf (Honor), Elive Shafak, Dar al-Adab.
8- Al-Hawl (Horror), Ahmed Khaled Tawfiq, Dar al-Karama.
9- Guantanamo, Youssef Zeidan, al-Shorouk publishing house.
10- Behar al-Hob Enda al-Soufeya (The Seas of Love in Sufism), Ahmed Bahgat, Dar al-Shorouk.